The Peloton bike has two generations – the standard one, which is approximately a decade old, and the newer bike plus, released in September 2020. This means that the newest generation of Peloton bike is the bike plus.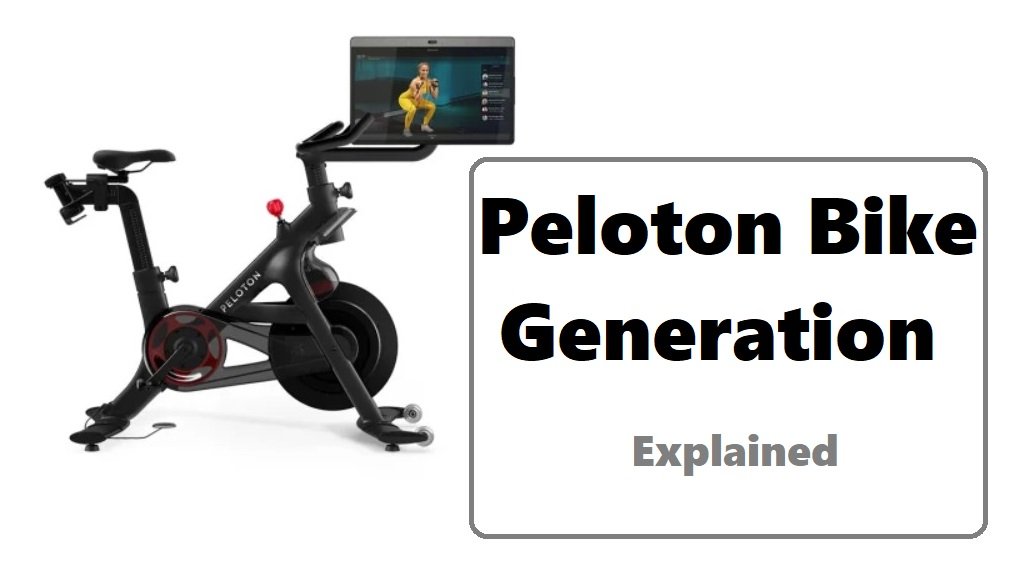 The Peloton bike generations differ from their screen generations, and both should be taken into account when discussing them.
How Many Peloton "Bike Generations" are There?
There are currently two generations of Peloton Bikes available. The 1st Gen Bike, first launched in 2014, is priced at $1445 as of January 2023. The more recent Newest Gen Bike+ was released in September 2020 and is priced at $2495.
How Many Peloton "Screen Generations" are There?
The Peloton Company has released three generations of screens till date. To identify which generation the touchscreen belongs to, the user must look for the FCC ID or model number which is located at the back of the screen.
For 1st Gen Screen, it should start with "72010" and for 2nd Gen Screen, it should say "RB1V1" and for 3rd Gen Screen, it should say "RB1VQ". As of now, no update has been received about 4th Gen Screen.
What is the Newest Peloton Bike Generation, and How is It Different from the Old?
The Peloton bike plus is the newest generation of Peloton bikes, and boasts a distinct outlook and a variety of improved features and performance in comparison to the first generation.
A Summary Table of a Comparision Between the Two Peloton Bike Generations
| | | |
| --- | --- | --- |
| | Peloton Bike: Generation 1 | Peloton Bike Plus: Generation 2 |
| Model | Peloton Bike | Peloton bike plus |
| Year of Manufacture | 2014 | 2020 |
| Cost | $1445 | $2495 |
| Screen Size | 21.5 inches | 23.8 inches |
| Screen movement | Tilts to adjust vertically | Tilts and rotates 360 degrees to adjust vertically and horizontally |
| User weight | 297 pounds | 297 pound |
| Size  | 59″ L x 53″ H x 23″ W  | 59″ L x 59″ H x 22″ W |
| Footprint  | 4 ft. x 2 ft. | 4 ft. x 2 ft. |
| Weight  | 135 pounds | 140 pounds |
| Resistance  | Magnetic with mechanical adjustment | Magnetic with digital adjustment |
| Auto resistance feature | no | yes |
| Pedals  | Look Delta clipless pedals | Look Delta clipless pedals |
| Internal storage | 16 GB | 16 GB |
| Processor  | 2.0 GHz Mediatek MT8173 quad core | 2.5 GHz Qualcomm QCS605 |
| RAM | 2 GB | 4 GB |
| Charging Port | USB microport | USB-C |
| Speakers | 2-channel audio with 2×10 watt  | 4-channel audio with tweeters and full-range drivers |
| Frame | Welded steel, ED & powder coated | Welded steel, ED & powder coated |
| Seat and handlebars | adjustable | adjustable |
1. Year of Manufacture
Peloton released their first spin bike model in 2014, which grew to popularity and is now known as the value bike that starts at $2295 but has been reduced to $1445. In 2020, they released the second generation bike Plus, a premium option costing $2495.
2. Console Features
The main differences between the old and new generation Peloton bikes are prominent in their consoles, including screen size, processor and RAM, audio speakers, and charging ports.
The old model features a 23.8-inch screen that tilts vertically, a 2.0 GHz Mediatek MT8173 quad-core processor with 2GB RAM, and two rear-facing audio speakers.
In comparison, the newer model has a 21.5-inch monitor that rotates horizontally, a 2.5 GHz Qualcomm QCS605 processor with 4GB RAM, four front-facing audio speakers with tweeters and full range drivers, as well as a USB Type C charging port for mobile devices.
3. Resistance
The latest Peloton bike generation has an improved resistance system that is digitally controlled with a magnetic structure. It also offers an automatic resistance feature, allowing users to preset the range and have it automatically adjust during classes.
4. Screen Movement
The Peloton bike Plus boasts a larger and more versatile touchscreen than its predecessor.
The old screen was limited to vertical movements, allowing for different rider heights but lacking in flexibility for off-bike activities.
The newer model's touchscreen can be rotated horizontally, increasing accessibility for all types of peloton sessions.
5. Charging Port
The Peloton Bike+ has been upgraded to feature a USB-C charger, providing additional convenience by matching the consumer's cell phone charger.
6. Audio
The sound system of a bike can vary significantly from one model to the other. The original model has only two speakers, while the more recent one is equipped with better quality speakers that offer studio level sound. And there are also headphone port to connect external headphone.
Are the Peloton Bike Generations Similar?
The Peloton Bike Plus and original Peloton bike share similar features, including a 4'x2′ footprint, access to the Peloton all-access membership and a free digital app membership, 16GB of internal memory, Bluetooth/Ant+ connectivity with external devices, ten multi-touch points on the screen, welded steel construction with ED and glossy powder coating, and user height and weight limits of 4'11" to 6'4" and 297 lbs. respectively. The ceiling height should be at least 8 feet to accommodate all users.
So, Peloton Bike Generation 3?
There are three generations of Peloton bike screens: the oldest model being released in 2014 with a slow processor, smaller screen and prone to glitches.
The second and third generation models being so similar that they can only be told apart by their model number (RB1V1 for Gen 2 and RB1VQ for Gen 3) and by the color of their power and volume buttons (orange for Gen 2 and grey for Gen 3). Both generations offer larger screen casting.
So, is the Newest Peloton Bike Generation Better than the Old?
The newer model of bike is more luxurious and convenient, however the experience on both bikes remains unchanged.
They have the same material composition and warranty coverage, making the money and excitement that comes with the new 'Bike Plus' worthy of investment due to its better camera, audio and classiness.
Frequently Asked Questions (FAQ's)
Peloton RB1VO Vs. RB1VQ
RB1VO (VO) and RB1VQ (VQ) are the serial numbers of Peloton bike screen models of generations 3 and 4, respectively. Although both generations are largely similar, distinguishing between them can be challenging.
Is Peloton Bike Generation Important?
When looking to purchase a second hand Peloton bike, it is important to ensure you check the generation of the bike as this will determine the worth and features available.
The Peloton Gen 1 tablets are outdated and not accepting updates, hence close to useless, however these can be replaced for a fee. For an extra cost, the Peloton Plus bikes offer improved technology compared to standard models.
What Model Touchscreen Do I Own?
If you are unsure if you own a first-generation touchscreen, there are various ways to check. To begin with, the power button is round, orange and located on the top of the touchscreen.
Additionally, they were manufactured before September 2016. Lastly, first-generation serial numbers start with "72010" and can be found on a label at the back of your device.
Is purchasing New Peloton Plus worth it?
The Peloton Bike+ has the capacity to automatically adjust workout intensity thanks to its digital resistance rather than mechanical, allowing for a more efficient and faster process.
Additionally, it offers an immersive experience with its 22″ HD touchscreen and allows users to connect with other members through various activities such as singing, dancing, and competing on the leaderboard.
Prices are subject to change and availability is accurate as of the time indicated.
Conclusion
Peloton offers two models of exercise bikes, the new and the classic model. The new one offers luxury, improved technical details and a more enjoyable experience while the classic one provides all you need to train every day while being more economically convenient.
Ultimately, it is up to each individual to decide which best suits their needs.