Sweat can cause damage to exercise equipment, such as a Peloton bike mat, and produce an unpleasant smell when absorbed by materials like seat covers.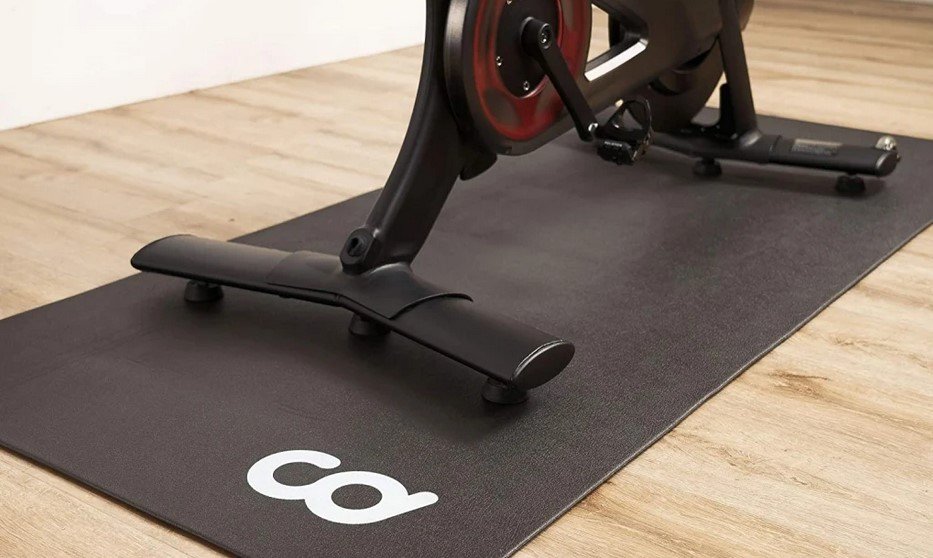 It is important to understand what products are safe to use for cleaning the Peloton mat in order to properly care for the machine and avoid any undesirable consequences.
Here in this article we will discuss How To Clean Peloton Bike Mat Safely?
How To Clean Peloton Bike Mat Safely: Essential Guide
Find How To Clean a Peloton Mat: A Comprehensive Guide.
First, collect the required items.
A vacuum cleaner that has a tube/pipe/hose attachment.
A brush with soft bristles (optional).
A gentle soap or cleanser.
A towel that is neat and dry.
Use the necessary items and then follow to these directions:
Step 1: Begin by using the vacuum cleaner to carefully eliminate any dirt, dust, or other particles from the surface of the mat. Utilize a soft-bristled brush to successfully dislodge any persistent dirt pieces.
Step 2: Then, Take a small quantity of gentle soap or laundry detergent and combine it with water in a bowl.
Step 3: Next, Using a damp cloth, gently clean the whole mat with the soapy mixture.
Step 4: Then, Thoroughly rinse the mat with fresh water to get rid of any soap leftovers.
Step 5: Finally, take a dry cloth and wipe the mat until it is totally dry before using the Peloton cycle again.
Related Read:
How to Clean and Deodorize Peloton Shoes? Explained
How to Clean Peloton Bike Properly! Detail Guide
How To Clean Peloton Screen? (Full Guide For Beginners)
What is Peloton Mat Made off?
The Peloton mat is crafted from closed-cell EVA foam, a rubber form of foam. This type of material is highly dense and waterproof, preventing any mildew or bacterial growth.
Due to its properties, it makes for an optimal exercise mat. Additionally, it is also recyclable.
Can I Use Baby Wipes To Clean My Peloton Mat?
Yes, You can use baby wipes to sanitize your Peloton mat. Nonetheless, we discourage the use of any other type of disinfectant on the mat, as it could result in harm to the coating.
To clean the mat, simply wipe it down with a dampened baby wipe. Make sure that you allow the mat to dry completely before using it again.
FAQ's
Can You Use Alcohol Wipes on Peloton?
It is not recommended to use alcohol wipes for cleaning your Peloton mat; rather, a moistened cloth or mild soap and water should be used for best results.
How do you clean a Peloton reversible mat?
It is easy to clean the Peloton reversible mat with a 1:20 solution of vinegar and water and the mat size is 71 x 26 inches and 5 mm thick.
Can You Put a Peloton on Carpet?
It is not recommended to put a Peloton on carpet due to friction which may damage the bike and floor. A good gym mat is recommended.
Should I Put a Mat Under My Peloton?
It is advisable to use a mat while using the peloton, as it will ensure the equipment stays protected from dirt and dust and it helps maintain stability during workouts. Additionally, it prevents damage to the floor.
How to Dry Your Peloton Bike Mat
To ensure the best results when drying a Peloton bike mat, it is essrstial to protect it from direct sunlight, let it dry completely before using it again, and hang it up on a railing, ladder or chair in a straight manner.
How to Disinfect the Peloton Bike Mat
Vapour Fresh Disinfectant is an effective and affordable option for disinfecting surfaces such as yoga mats, bike mats and Peloton bikes.
This product is in the form of wipes and it is suggested to start from one end of the mat to the other to ensure even coverage.
While regular cleaning removes dirt and germs, disinfecting kills any bacteria, fungi or moulds, making it necessary to clean the surface with a DIY cleaning spray beforehand.
Conclusion
It is essential to regularly clean your Peloton bike mat in order to maintain its condition and extend its lifespan. This article has provided a comprehensive guide on how to do this efficiently and effectively.