Robin Arzon is one of the most popular instructors at Peloton, and for good reason. She's a badass who knows how to get her students motivated and excited about working out. Here's everything you need to know about Robin, from her background to her favorite workout tips.
Robin Arzon is an RRCA-certified ultra-marathoner and a running coach. She wrote "Shut Up and Run," which was a New York Times best seller.
Find out about Robin Arzon's early life, including her height, weight, education, profession, age, and net worth.
Related: 20 Best Robin Arzon Quotes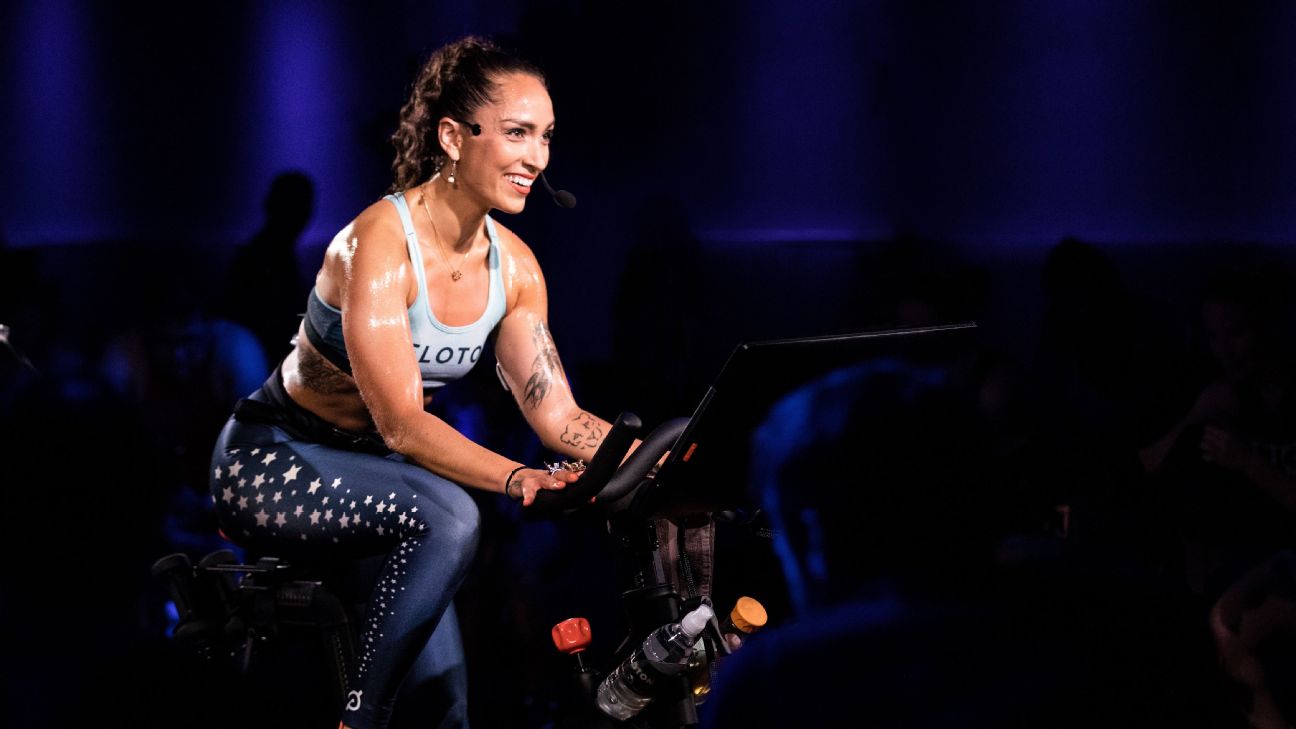 Robin Arzon Biography
| | |
| --- | --- |
| Full Name | Robin Amelia Arzón |
| Nick Name | Robin |
| Hometown | Philadelphia |
| Gender | Female |
| Age | 40 years old |
| Birthday | 20th September 1982 |
| Nationality | American |
| Height | 5 feet 7 inch (1.7m) |
| Weight | 63 Kg |
| Profession | VP of the fitness program at Peloton & Peloton Instructor |
| Marital Status | Married ( Husband: Drew Butler ) |
| Education | New York University and Villanova University School of Law |
| Children | Athena Amelia Arzón-Butler |
| Social Media | Instagram: @robinnyc | Twitter: @RobinNYC | Facebook: robin.arzon |
Robin Arzon Early life and education
Robin Arzón was born in Philadelphia to a mother who was a Cuban refugee and a father who was from Puerto Rico. Her mother is a doctor, and she taught herself English by watching PBS. Her father is a lawyer and used to teach law.
As a child, she was told to pay attention to school and her family. She never played sports when she was young.
Arzón went to school at New York University and got her magna cum laude degree there. After that, she went to law school at Villanova University.
Peloton and Robin Arzon
Arzon joined Peloton in 2014, which made her one of the first instructors. She likes to ride bikes and wants to change the way people live.
In 2016, Arzon was given the job of vice president at Peloton. Even though she is the top administrator, she is still the Peloton bike trainer.
Robin Arzon Book
Shut Up and Run, which came out in 2015, was Robin's first book that sold a lot of copies. It talks about how this ultramarathoner is now a fitness coach. She wants to show people that running is a way of life, not just an exercise.
The title of the second book is Strong Mama, and it came out in 2022. This, too, is a best-seller on the New York Times list. It's about being a mother and more. People often say that her programs at Peloton are some of the best there are, just like her books.
Robin Azron Net Worth
Robin Arzon is the vice president of Peloton, teaches Peloton bike classes, and has written books. The simple answer is that Robin Azron has a net worth of $10 million approximately. She has worked for Peloton for a decade.
Robin Arzon Diet
First of all, she has Type 1 diabetes, which means she is very careful about what she eats. She doesn't eat meat or dairy, and she drinks water all day. She also has to keep an eye on her blood sugar levels all the time.
Arzon's diet philosophy is all about balance and moderation. She believes in eating whole foods that are nutrient-rich and fuel your body properly. "I think people forget that food is meant to nourish us, not punish us," she told Women's Health.
Robin Arzon Height And Weight
She is 5 feet, 8 inches tall and weighs 63 kg. This means that her body is in good shape. She is, of course, Peloton's vice president of fitness programming. This means that her body is a good example of what Peloton fitness is all about.
Robin Arzon Husband
Drew Butler, who used to be a sports player, is married to Robin. They have a daughter, and her name is Athena Amelia Arzón-Butler.
Robin Arzon Age
This year, Robin Arzon will be 40 years old. She was born in Philadelphia, Pennsylvania, on September 20, 1982. She was born to a Cuban refugee mother and a Puerto Rican refugee father. Her father works as a lawyer, and her mother works as a doctor.
As a child, she never did anything that had to do with fitness, but she did have to be disciplined. Her parents who worked gave her a strong work ethic and a lot of energy, which helped her in the long run.
How Robin Arzon Motivates?
Arzon is a big fan of working hard. Arzon says that the only way to change your fate is to sweat. She says that the pride that comes from working hard will last longer than the pain.
Robin Arzon Interests
Arzon is always looking for the next cool thing to do. She is often found around New York City adding up miles and getting better at reps.
Related:
Ally Love Peloton Instructor: Net Worth, Age, Height, Wealth (Updated)
Andy Speer Peloton Instructor: Net Worth, Wife, Age, Bio
Adrian Williams Peloton Instructor: Net Worth, Wife, Age, Bio (Updated)
How long does Robin Arzon work out every day?
In an interview with the New York Times, she said, "I spend five to seven hours a week on my own strength training, conditioning, and running." She has her own studio, where she works out while listening to her favorite music.
Is Robin Arzon A Puerto Rican?
No, She is American by born but her father was Puerto Rican.
Does Robin Arzon Own Peloton?
The answer is NO. Robin Arzon is the Vice President of fitness at Peloton. John Foley is the co-founder and CEO (chief executive officer) of Peloton. 
Get To Know Robin Arzon | Instructors | Peloton
Final Words
Robin Arzon is one of the most popular instructors at Peloton, and for good reason! She's an amazing athlete with a powerful story that will inspire you to push yourself harder than you ever thought possible.
Recent Posts