Nothing beats sitting on the couch, munching some snacks, and watching fun shows on Netflix. But, it is not worth skipping your workout sessions and thrashing your fitness goals. But what if you can watch such shows while cycling on your Echelon bike?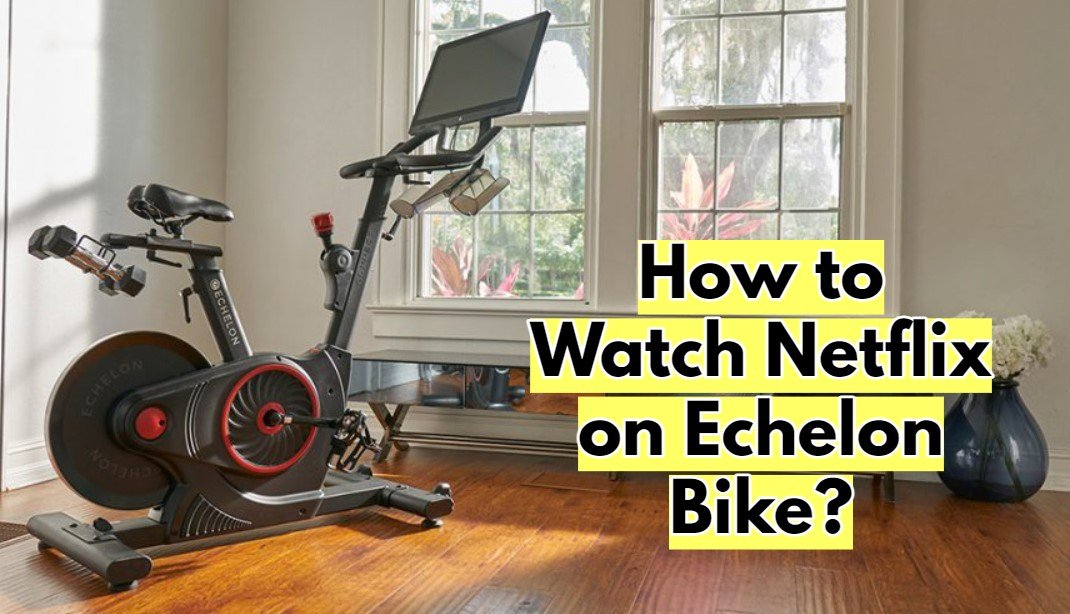 As a whole, Netflix doesn't work with the Echelon Bike, so you can't watch Netflix from your Echelon Bike. To use the Echelon bike to stream Netflix, you'd need an EX3 or EX3S, a device that connects to the bike, or a cable that connects the two.
This idea sounds exciting, and you must be wondering if you can access Netflix while cycling on Echelon bikes. In this blog post, we'll explore how to watch Netflix on Echelon bikes and show you how to start streaming your favorite movies while cycling.
Is Netflix Compatible with Your Echelon Bike Tablet?
It is never enough to dream about having some entertaining moments while working on achieving your fitness goals. If you are using an Echelon bike and interested in streaming some movies from Netflix while cycling, it is essential to know if both appear compatible.
The answer is no! Netflix is not compatible with your Echelon bike, and you can't download Netflix or stream shows directly without employing specific alternatives. Undoubtedly, a few users can watch Netflix on their Echelon bike, but you should know that there are some tricks to use for that to happen.
Not to worry, the sections below will expose how to go about this and watch the latest series from Netflix while riding your Echelon bike.
Watching Netflix on your Echelon Bike
A stationary bike is a piece of equipment that works well for at-home workouts and would let you key into a great cycling experience without fear of the outside weather condition. Echelon bikes are excellent products that offers one of the best fitness experience.
From comfortable workout features to expert trainers readily available to guide you through each session, you can achieve more than you bargain from using this exercise equipment. What's better is the provision of various workout classes that suits your level and schedule.
Again, you can access a vast number of on-demand fitness content to help boost your experience. It works well for beginners, with various classes that should help get you accustomed to the typical routines. There are excellent fitness classes for both intermediate and advanced level users.
Aside from the vast collection of fitness content, you may be interested in watching something more entertaining. If you have a Netflix account and want to know how to pair your cycling sessions on the Echelon bike with a fun movie time, there are certain boycotting ways to do so.
While the Echelon operating system does not support such external streaming services, you can bypass its settings, but this may come with some downsides. Again, you can use another safer technique: continue reading to get this hack.
Hacking Through your Echelon Bike's Settings
As mentioned earlier, Echelon has no compatibility with Netflix, creating a challenge for people who want to stream TV shows while working out. But, you can bypass the Echelon bike's settings and use the Launcher3 technique.
With this new setting, your Echelon app would operate on the primary Android home screen, allowing you to download Netflix from Google or stream Netflix movies through the browser.
Power on the tablet 
Hover through the screen and click on "apps."
From the drop-down menu, disable the permission for "modify system settings" available on both Echelon apps.
Navigate through the main Echelon fit app and tap on the home settings
Then, make Launcher3 the new home app settings 
Downsides of Bypassing Echelon's Settings
You can successfully hack through the Echelon system's settings and start streaming your favorite Netflix anime show, but there are specific challenges.
Firstly, you may encounter hitches, and the streaming service may freeze from time to time since the system wasn't designed for such a purpose. In extreme cases, the tablet may malfunction or face severe damage. 
When your bike's tablet gets damaged from streaming Netflix movies, you will likely forfeit your warranty. You must be wondering why the Echelon warranty wouldn't cover such. Well, you weren't abiding strictly to the use of this fitness device and hacked through the system's settings to access Netflix.
Safer Methods of Watching Netflix on Echelon Bikes
While you may encounter particular challenges streaming Netflix on your Echelon bike using a bypassed setting, here are a few safer methods you should consider.
 If you don't want to encounter hitches while streaming movies on your Echelon bike, getting a smartphone or tablet is recommended. Impressively, you can quickly get such devices attached to your bike in a secured position that allows you to watch Netflix without the smartphone or tablet falling off.
Get a side mount to attach the secondary tablet on any suitable part of the stock screen. Then, you can set up your Netflix login details and start watching TV series while cycling.
Getting an HDMI Cable Attached to the Tablet
Get a compatible HDMI cable and connect the bike to the tablet. With the cable between the tablet and the bike, you might be able to stream Netflix.
However, this method works solely for EX3 and EX3S Echelon bikes. If you don't have any of the equipment mentioned above, follow the other options discussed here to help you stream your Netflix Originals.
If it's not much of a trouble, you can get a television monitor mounted on the walls of your workout studio. Get one and install it in a position that gives you a clear view of the TV shows while you are on the bike. Then, connect the streaming service, Netflix, to the monitor and get started. 
Conclusion
Echelon stationary bikes offer effective workout services that take you to the highest point of your fitness program. This indoor workout equipment has several exercise content. However, some folks are interested in working out with a view of something more interesting to watch.
Netflix is a great way out, as there are tons of movies and shows that you can enjoy. But since Netflix isn't compatible with Echelon bikes, how do you go about this? It would be best to read through this piece on "how to watch Netflix on Echelon bikes" to help you out.
Related Read:
Can You Use Echelon Bike Without a Subscription? How? Explained
How to connect Airpods to Echelon Bikes? SOLVED!
How to Connect Apple Watch to Echelon Bike? Explained