As a whole; Yes, you can use Echelon without a subscription but will only have access to the basic functions and content of the Echelon. Also you can see your stats without a subscription via the Freestyle rides. (Find in more sections of the app)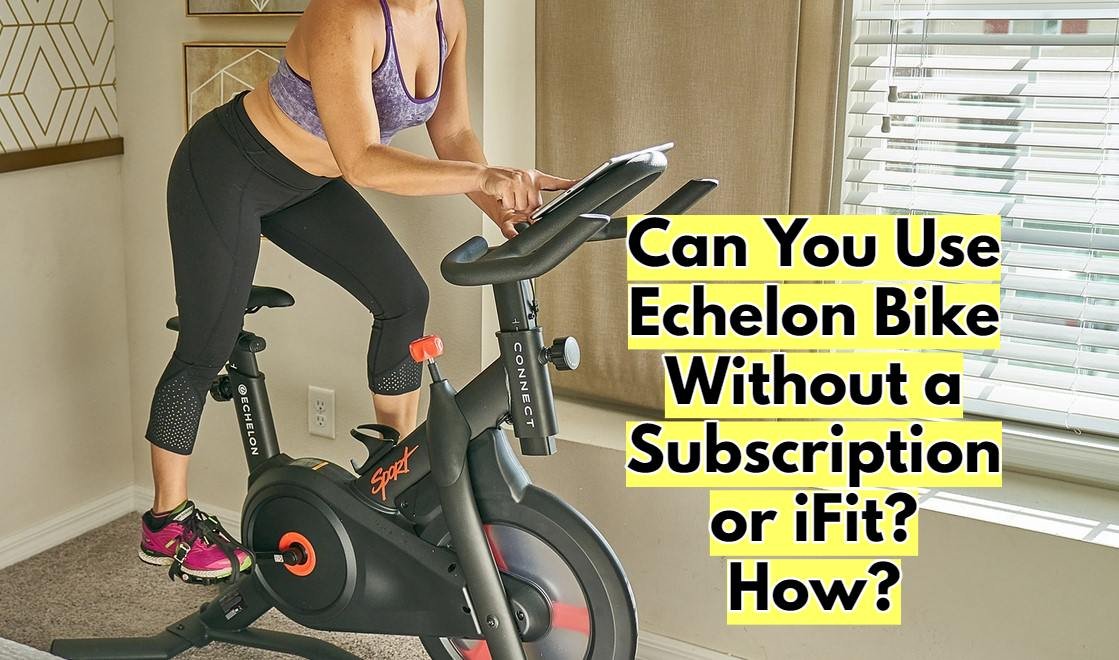 Indoor workout activities are pretty every day and have been helpful for folks who don't go to the gym. While many fitness services emerge supportive, Echelon is a fantastic option. Echelon bikes are smart, app-enabled electric bikes that come in various models to suit at-home workout routines.
With a billed plan, you can have unlimited access to the machine's excellent features. But can you use Echelon bikes without a subscription? Yes, exercisers can use their Echelon bike without a membership, and this piece will show you how.
Read More: Do You Need Special Shoes for Echelon Bike? Explained
Using Echelon Bikes without a Membership
Echelon is a revolutionized biking that provides studio-quality and immersive cycling while you interact with the global community right within your home. It is affordable and can help you achieve your fitness goals without needing to go to the gym.
You can stream classes and rely on the guidance of expert instructors to help you emerge victorious. Furthermore, you can take advantage of the competitive feature by riding to compete against friends and joining the online community. But, these features are only available with a subscription.
So, what happens when you are yet to renew your Echelon bike membership? Without a subscription, you can use the "free ride" mode. Reports reveal "freestyle" options on the Echelon app, which only shows your metrics.
Hence, you wouldn't find any music or have access to an instructor, and the app should help you keep track of your output. Aside from this feature, you would find the touchscreen blank and can't participate in scheduled classes or stream live and on-demand classes. 
So, is the Echelon subscription worth it?
The answer is yes! What purpose or benefit is missing out on the many opportunities and benefits that come with this bike. So, while using the free ride version, you should plan on getting a subscription soon.
Echelon With Subscription
As stated earlier, you need an active membership to access the intriguing classes while working out on your Echelon bike. This paid subscription allows you to participate in the live sessions, engage in extra mile classes, and access fitness on-demand content.
What you'll get if you take Echelon Subscription?
At $39.99, you can stay tuned to the FitPass and Connect rides, with a pass to engage in more than 35 live classes daily. An annual and biannual plan runs for $339.99 and $699.99, respectively. So, you can pick the payment plan that suits your budget.
This membership is sharable and offers up to five riders within your household to gain their individual exercise experience. 
Can you use Echelon bike with other apps?
To be precise; The Echelon doesn't work with other apps, so if you want to use Peloton or Zswift digital app, you'll have to use a separate screen to track your cadence. Resistance will not work.
How Does Echelon Bikes Work?
While various fitness brands supply bikes for indoor cycling, Echelon bikes remain a budget-friendly option with multiple models that you can choose from. While each model comes constructed to have a few variations, you can check their size and technical specs to get your most desired choice.
These bikes come with exceptional built-in features like consoles and Bluetooth connectivity, which allows you to use your tablet or smartphone with the machine. 
If you are keen on dedicating some more time to your spin workout sessions, you should consider this bike since you can stream live and on-demand fitness content in your free time. With the varying resistance levels, you can find it suitable irrespective of your build and fitness objectives.
The expert instructors are readily available to challenge, energize, and inspire you through tough sessions. Kindly note that this bike works with a subscription-based app, the Echelon Fit, which you can download at no cost on your phone app store. 
It allows you to access massive on-demand classes and stream live workout videos. The bike often has a touchscreen that connects to this app, which displays the videos while exercising. This rotatable screen allows you to view this content at varying angles, which is pretty comfortable.
It is known that music impacts motivation, helping you take your exercise goals to the next level. Thus, this fitness equipment has an excellent sound system and an extensive music library for a top-notch workout experience.
Echelon Classes and Workouts 
With the Echelon stationary bike and an active subscription, you can take on-demand and live virtual spin classes with expert instructors shot from the Echelon studios. These classes are grouped into the following:
Warm-Ups: This class gears you up for more of the day's session, keeping your body warm for more challenging courses.

Cool Downs: When you want to take a break or slow down, you can engage in cool-down rides to help you recover and slow down your heart rate.

Beginner Rides: Starting a spinning routine is never easy, but you can learn the basics with beginner rides before moving further.

Low Impact Rides: The key focus here is your form, execution, and overall techniques. The moderate-intensity drills and mild terrain combo build your workout baselines and offer you an excellent recovery time.

Endurance Rides: if you are keen on building strength, balance, and a solid foundation, the endurance rides will help establish you. There are incorporated variables of tempo and time through milder terrains. 

Power Rides: This class is an excellent option for folks who want to maintain performance and strength. With speed switches during rides, you can improve your overall metabolic activity.
Other options include bike Bootcamp, fusion, Tabata, speed, Hill, scenic, and all-out rides.  
Aside from these, the FitPass offers you access to other exercise classes on the Echelon Fit app, such as:
Stretching
Yoga
Boxing
Zumba
Strength
Cardio
Pilates 
The support for "competition" is more impressive, as you can ride with friends to compete on the bike's leaderboard.
In Summary
The Echelon bike is an excellent option for at-home exercise, connected to the Echelon Fit app that allows you to access many online classes. What's better is that this fitness service records your ride statistics and other valuable information to boost your workout routines further. However, you would need a subscription to access most of the bike's features.
Can you use your Echelon bike without a subscription? Yes, you can use your Echelon bike without an active membership, and this does not entail that you should borrow from a friend. You can use your bike with limited functions, and this write-up explains how to do so.
Read More:
How to connect Airpods to Echelon Bikes? SOLVED!
How to Connect Apple Watch to Echelon Bike? Explained
How to Watch Netflix on Echelon Bike? SOLVED!