If you're looking for the best Peloton strength classes to help with weight loss, you're in the right place. You don't need bikes or treadmills to take these classes, and they come with a peloton digital app. So that you can use them anywhere.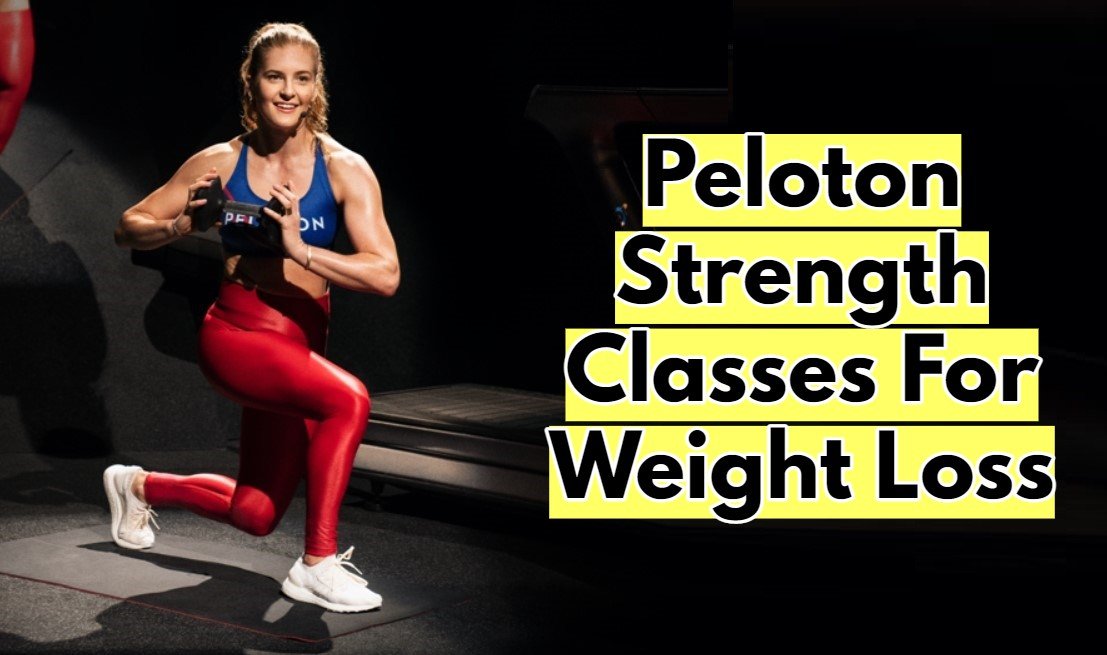 Of course, as with any workout regimen, diet plays a role in how successful you'll be at burning fat with Peloton rides.
Read More: Not Losing Weight With Peloton? (Unraveling the Mystery)
Are peloton strength workouts effective?
In general, peloton strength workouts work well because they are set up in a way that works all muscle groups at the same time. They can be done on their own by people who are just starting out, or they can be used as parts of more advanced workouts.
The main set is where you'll do most of the work, and it typically includes exercises like squats, lunges, presses, and rows. The key to getting the most out of these workouts is to push yourself hard during the main set – if you can do that, then you'll see some great results. So if you're ready to sweat it out and see some real progress, then give Peloton strength workouts a try!
Will Peloton Strength Classes Help Me Lose Weight?
Yes, Peloton strength classes can help you lose weight. Strength training helps to build lean muscle mass, which in turn helps to boost your metabolism and burn more calories at rest. Additionally, strength-training can help you torch more calories during your workout, leading to greater weight loss over time.
Can you build muscle with peloton strength classes?
To be precise; Yes, peloton strength can help you build muscle because the 20- to 30-minute workouts focus on different muscle groups and use progressive overload. The whole workout is focused on one muscle group, which increases the amount of time that the muscle needs to be under tension in order to grow.
How often should you take strength classes at Peloton?
Peloton strength classes should be done 4–6 days a week, depending on your goals, fitness level, and the time you have to train. People who are just starting out or don't have a lot of time can start out by working out 3–4 days a week.
How do peloton strength classes work?
Overall, peloton strength classes work by doing circuit-style training for the whole body or for specific body parts (upper body, lower body, arms, chest, legs, and glutes). Each class is different, and the teachers keep you interested and want to keep going.
Read More
5 Best Peloton Tread Classes For Weight Loss
Peloton Power Zone Training for Weight Loss (Explained)
What Muscle Does Exercise Bikes Work?
Peloton Workout Plan, Schedule and Diet Regime
Best Peloton Strength Classes For Weight Loss
I've put together a list of my top 3 favorite strength classes that have helped me lose weight, get stronger, and feel great. The instructor will take you through a series of exercises that are designed to challenge your muscles and push your limits. The workouts are short and intense, and you'll definitely be sweating by the end of it.
1. Bodyweight Strength
For bodyweight strength classes, the only thing you need is an exercise mat. Classes last anywhere from 5 to 30 minutes and include several calisthenics moves that strengthen your upper body, lower body, and core muscles.
I like the bodyweight peloton classes because they taught me some good moves I hadn't seen before. Also, they think of a creative way to put these exercises together.
Some classes move quickly and do exercises one right after the other. Others move more slowly but have more difficult moves.
2. Strength for Runners
Strength for runners classes are meant to build strength and stamina all over the body, not just in the legs, so that runners can run faster and farther. They are also a great way to burn extra calories and can help you lose weight because they make you work on your breathing and use weights.
What does strength for a runner's mean on peloton? Strength for Runners Peloton is a set of classes whose main purpose is to help you get stronger, stay healthy, and recover faster. The classes last between 5 and 30 minutes and are split into parts for strength, the whole body, and the core.
How does peloton strength help runners lose weight? Peloton strength for runners is good for weight loss because it has a lot of functional exercises that get your heart rate up and burn fat. Depending on how fit you are, you can use medium to heavy weights to add more resistance and intensity.
There are a lot of ways to use these classes:
| | | | |
| --- | --- | --- | --- |
| Main Workouts | Warm-up workouts (Before Run) | Cool down or relaxing workout (After Run) | Recovery workouts |
| 20-30 Minute Class | 5-10 Minute Class | 5-10 Minute Class | 10-10 Minute Class |
3. Upper and lower body Strength
Building muscle mass is one of the best ways to lose weight. Your resting metabolic rate goes up when you have more muscle. But if you don't have a gym, it can be hard to do it in the best way.
The upper body strength peloton has classes that only work the upper body. This helps you burn more fat by building more muscle. When compared to a full-body workout, this helps to isolate the muscle, increase the amount of time the muscle is under tension, and stimulate muscle growth better.
The classes last between 20 and 30 minutes and mostly work on the chest, shoulders, arms, or back.
If you want to lose weight and like to work out with weights, I suggest making a different class for each day of your exercise plan.
Peloton Strength Workout Plan
Here is the example of how would you do a peloton strength classes for weight loss:
| Day of the week | Peloton classes by muscle group |
| --- | --- |
| Monday | Chest + Back Strength (20 minute class) |
| Tuesday | Arms + Shoulders Strength (30 minute class) |
| Wednesday | Core Strength (30 minute class) |
| Thursday | Glutes + Legs Strength (20 minute class) |
| Friday | Pilates + Any lower body (30 minute class) |
| Saturday | Glutes + Legs Strength (30 minute class) |
| Sunday | Active recovery classes 5-10 minute |
Peloton Strength Workout Plan
NOTE: Eating healthy foods and maintaining a calorie deficit will help support your efforts and enable you to reach your goals more quickly. 
Peloton Strength Results
If you're like most people, when you think of Peloton, you probably think of their popular indoor cycling bikes. But what you may not know is that Peloton also offers a strength training program that can give you some amazing results. The Peloton strength program consists of a series of bodyweight exercises that are designed to tone and sculpt your entire body.

The best part is that all you need is a set of dumbbells and some space to move around, so it's perfect for at-home workouts. I recently completed the 8-week Peloton strength program and I'm absolutely amazed at the results. Not only have I toned my arms and legs, but my core is stronger than ever before.

I even saw a noticeable difference in my posture after just a few weeks of doing the exercises. If you're looking for a challenging and effective strength training program, I highly recommend checking out Peloton's offering. With consistent effort, you'll see some incredible changes in your body in no time!
Finally, Peloton is a great way to get in shape and lose weight. The company offers a variety of strength classes that are perfect for people who want to shed some pounds. 
FAQ's
Can a peloton help me lose weight?
In general, a peloton can help you lose weight because it has thousands of classes that are made for people with different levels of fitness, different goals, and different amounts of time. Peloton also has leaderboards that help you keep track of your progress and keep you motivated.
What Peloton Class Is Best For Losing Weight?
If you're looking to lose weight with Peloton, there are a few things to consider. First, what is your fitness level? If you're new to exercise, you'll want to start with a beginner class.

If you're more experienced, you can try an intermediate or advanced class. Second, what type of workouts do you enjoy? Peloton offers classes for all kinds of activities, from running and cycling to strength training and yoga.

Third, how much time do you have for working out? Peloton classes range from 10 minutes to 60 minutes, so you can find something that fits into your schedule.
Conclusion
If you're looking for a workout that will get you results, then Peloton strength workouts are definitely worth trying.
These workouts are designed to help you build lean muscle and improve your overall fitness, and they're led by some of the best instructors in the business. 
Read More:
Peloton Hiking Bootcamp: Ultimate Guide
8 Hardest Peloton Rides and Workouts for All Level
Peloton Full Body Workouts: Why it is Necessary?
Are Peloton Metrics Accurate? Know the Facts
Peloton Instructors Diet Regime