Hey peloton enthusiast, This is Marco's peloton before and after success story. He did extraordinary. Read this story with his own words.
I did it!! I lost 64.4 lbs in 60 days!!
I achieved a significant milestone on my Peloton as well. My first ride ever was on Day 1 of my weight loss journey (3/24/21) and on Day 60 (5/23/21), I completed 6,000 minutes of rides!!
That's an average of 100 minutes of Peloton rides each day for 60 days!!
To refresh your memory – I'm a Critical Care Nurse and worked in a couple of COVID ICU's this past year. The weight I gained during the pandemic due to stress, lack of exercise, unhealthy changes in eating habits and poor sleep got me to the heaviest I have ever been.
I desperately needed to lose the weight and am thankful that I was able to do so with the help of my Peloton.
MY 8 WEEK WEIGHT LOSS TRANSFORMATION with PELOTON: Before and After Result
I wanted to give you all an update as I've just completed my 8 week weight loss challenge. I was floored by the number of you that saw my previous posts, acknowledged my achievement and gave so many kind words of encouragement and thanks for my work during the pandemic (9.3k likes and over 450 comments on the last post.
Those words of encouragement from ALL OF YOU helped push me in the final weeks of my weight loss challenge and catapulted me to VICTORY. I won the Golden WWF style GOAT Belt … for being the Greatest Of All Time, losing the most weight ever in 8 weeks for my weight loss group.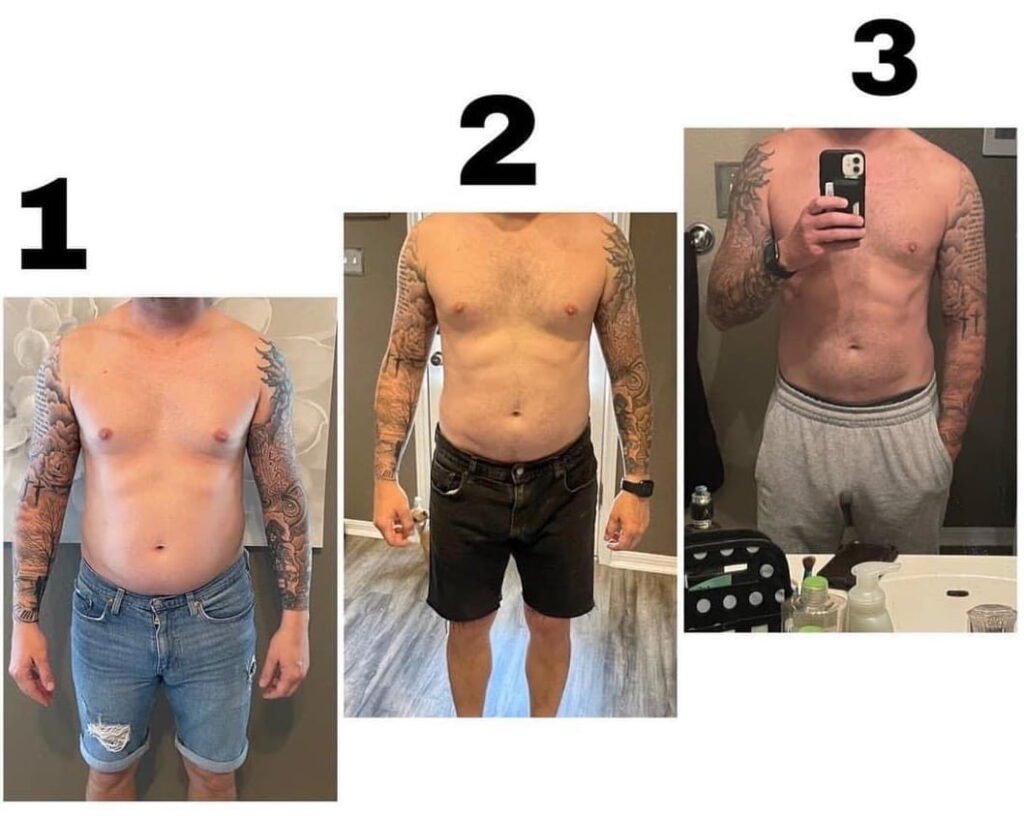 Related: 80 Day Peloton Before and After (See the Differences)
Shout out to Alex Toussaint – Peloton who exclaimed in one of his classes, "Aim High, Fail High" and "if you ain't strugglin', you ain't hustlin'". I really took those messages to heart and it helped propel me to the massive success I achieved!
I know there will be a lot of you wondering exactly how I achieved this amazing transformation in just 8 weeks.
I am part of a weight loss group that uses a teams based, one-on-one Coaching approach that is geared specifically towards Men (ages 30-50). It taught me how to naturally boost my testosterone, increase my insulin sensitivity and my metabolism, increase my libido 😉, kill my sugar addiction and decrease my visceral (gut) fat via diet, exercise, intermittent fasting and good sleep. I'm just one of many incredible 8 Week transformations in the group! It was 70% diet, 20% exercise and 10% intermittent fasting.
TBH, working on the frontlines with COVID patients in the ICU this past year (most of whom were diabetic and obese) really scared the hell out of me. My weight loss program focuses on mind and body. It has helped me become better in tuned with my physical self and also changed my relationship with food by exploring and confronting the issues that have gotten me to this point in the first place.
Read Also: What Muscles Does Peloton Work?
It's coaching done in a teams approach so I have also had teammates (on the same journey) that have been motivating me and supporting me via a private Facebook group (like this but much smaller) which has helped to keep me accountable and has pushed me off of the couch when all I wanted to do was lounge and watch some Netflix.
Related: Peloton Legs Before and After (Know the Facts)
Workout wise I did about 95% of them on my Peloton – all different kinds of classes but tried to focus on HIIT & Tabata style rides. I love electronic music so gravitated to those classes a lot because they reminded me of the pre-pandemic days of going out dancing with friends. I also mixed in some runs, hikes, hills & stairs (I live in San Francisco) and burpees. Mostly around 15-30 minute HIIT style workouts where I was getting my heart rate up and down but also did some 45-60 minute ones for endurance.
IMO, the things that made the most impact on my weight loss were mindset and diet. The program helped me understand my Why's and my ever evolving relationship with food while the diet (although quite clean) allowed me to eat as much as I wanted from a select list of foods designed for this type of weight loss in Men. Also, being part of a group going through the same journey kept me accountable and provided a level of support and camaraderie that made all the difference.
Related: Peloton Workout Plan, Schedule and Diet Regime
I really loved taking Peloton classes simultaneously with my teammates. It was fun to have a "pace car" and push each other in a friendly, competitive way.
The Peloton was vital to my weight loss. The convenience of having it right in my guest room made it easy to get up off the couch and get another ride in if I got a notification on my Apple Watch that one of my teammates just finished a workout. The Peloton instructors each brought their own brand of motivation to keep pushing me. I actually vividly remember several points in time where I was looking into the mirror as I was riding and the instructor had me tell myself things like "I am strong" "I can do this".
It was truly a gift to get my Peloton and find this weight loss program. They've both changed my life for the better. Most importantly, I have created healthy habits and a healthy mindset to keep the weight off in the future while still being able to have comfort foods I enjoy occasionally.
I've got some "down time" before my next 8 Week Weight Loss Challenge begins on June 1st. In the meantime, I'll be keeping my head down and maintaining my daily routines, diet and of course, my Peloton workouts.
Peloton Weight Loss: Does it Really Work? FAQ's
How long does it take to see results from Peloton?
You should expect to see the first results in 2–3 months, and significant weight loss of 10–15 pounds will not be seen until at least 4–5 months have passed. The trick is to get on the Peloton as often as you can (at least 4 times a week).
Can you lose weight with just Peloton? Really?
You can burn between 400 and 1,000 calories each hour in a cycling class like Peloton. It is true that you will lose weight using Peloton workouts as long as a calorie deficit is maintained through a combination of a balanced diet and regular exercise.
Do you need to ride Peloton every day to lose weight?
Actually it is not necessary to ride peloton daily to lose weight but my suggestion is, Start with 30-60 minutes 4-5 days weekly then you will realize what need to do.
Concluding Words
I'm really happy to receive so much positive feedback and support from our Peloton community ❤️ I'm sharing my story in the hopes that it might reach people that have also been struggling with their weight… to let them know that with the Peloton, a clean and healthy diet (avoiding sugar, processed foods and alcohol) and addressing the psychological issues surrounding your weight, anything is possible
Thank you for reading my peloton success story
Information sources: Facebook Peloton official group
Also Read:
What to Know About Peloton New Scenic Classes?
Recent Posts