The Peloton bike has quickly become one of the most popular exercise machines around the world. From its sleek design to its interactive classes and instructor-led workouts, it's no wonder why so many people are turning to this piece of equipment for their workout needs.
what makes it even more interesting is hearing about all the success stories from people who have used the Peloton before and after they started using it.
These inspiring tales show how a simple fitness machine can help you reach your fitness goals in a short amount of time, while also providing motivation and support throughout your journey.
"Cycling Inspire" has gathered a compilation of the most authentic and motivating Peloton weight loss triumphs from Facebook's official peloton group. With upwards of 400K+ members, this platform is an impetus for all Peloton fans as they can observe other people's achievement stories here almost every day!
In this article, we will be exploring some of these incredible success stories from real users who achieved amazing results with their Peloton bike!
Does Peloton Help Me Lose Weight?
The short answer is yes, Peloton can be a great tool for weight loss! With the combination of high-intensity workouts and personalized coaching, it provides users with an easy way to get in shape.
Many people have lost pounds and inches using Peloton and report feeling stronger and more energetic.
Read More:
Not Losing Weight With Peloton? (Unraveling the Mystery)
Peloton Workout Plan, Schedule and Diet Regime
Peloton Instructors Diet Regime
Best Peloton Strength Classes For Weight Loss
5 Best Peloton Tread Classes For Weight Loss
Peloton Power Zone Training for Weight Loss (Explained
Peloton Before and After Female
Everyone has a different success story to tell, and expresses their experiences in unique ways. Let's listen to the amazing Peloton before-and-after success stories!
# Colleen Dugan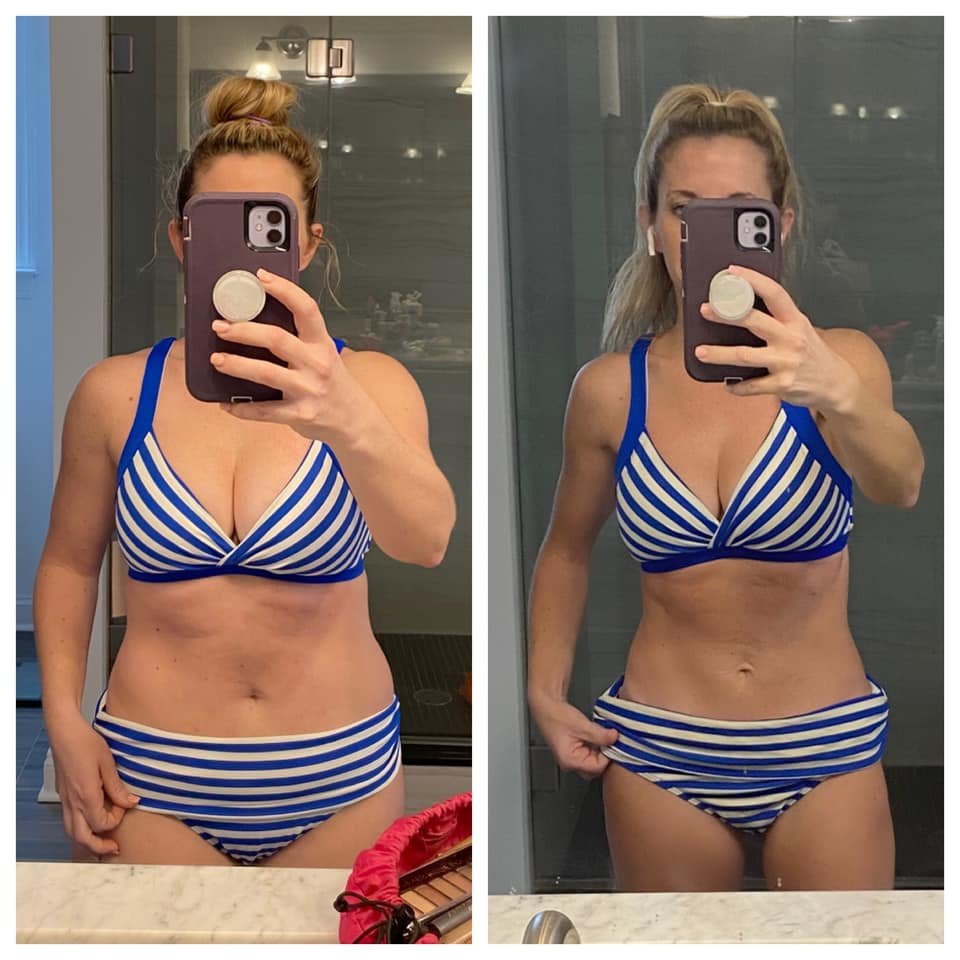 Before/After one year of Peloton. Has saved my sanity with 3 little kids at home.
Please add to edit: I am humbled and so appreciative of the encouragement. I've read every comment
. I'm
focusing on this instead of my close-to-me naysayers.
No specific food plan, no other workouts, just the bike. It took 4 months to see one pound come off then the remaining 8 months 25 lbs. came off.
What worked for me is doing longer duration. 5 days a week I did about a 60 minute ride. Two 30 minutes back to back but doing the lower numbers called to keep stamina. Or 60 minute rides but there's not too many. I think the Jess King – Peloton 45 minute Sweat Steady rides are what changed it for me. And throwing a 15 min ride before or after.
Most importantly my mental health improved by a landslide and that is the real reward.
# Red Apple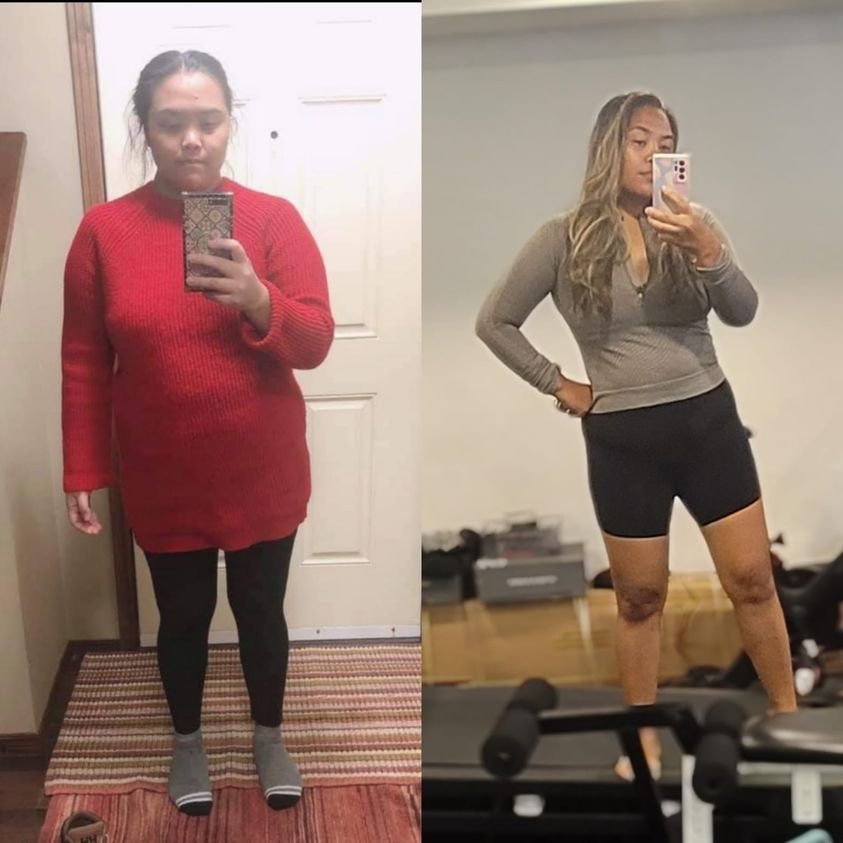 This is mine before and after pics. It took me 2 years to get to where I am now. Peloton helped a lot with my "mom's pouch" it was hard. Last year I was 210lbs. I tried to go to the gym every day and work out for 2-3 hours (weight lifting, cardio and jumping rope).
I've lost a few lbs but the lbs that I've lost went back again because of my eating habit. I tried keto and have lost weight on that one too but I just couldn't stick to that way of life.
Then I started intermittent fasting (just doing 14: 10 and 16:8) every day and I've lost about 18lbs within 2 months. I was so happy.
But, even though I've lost a few lbs, I still couldn't get rid of my mama's pouch. I bought a Peloton bike and my life has changed. I watched my intake (calorie deficit and Intermittent fasting) and ride my bike every day for only 30min.
I gained all my confidence. I've lost 31 lbs total. I still need to lose a lot to be considered normal weight but I'm just happy I got out of the obese range.
What drives me to change my way of life?
I was pre-diabetic and the doctor said if I don't lose weight I will end up taking diabetic meds. I don't want that. I took a lab test 2 months ago and everything was normal including my A1C! I am no longer pre-diabetic! I am so happy!!
# Tiffany McElroy
Exactly 1 year before and after. Today marked my century ride on the Peloton and I couldn't recommend the bike and community enough. So happy to finally get that 100 ride
.
Thank you Cody for such a fun live 90s ride. Didn't get a call out but couldn't stop smiling anyways!
Side note: it's hard to see the difference everyday in the effort you put in, which is why I'm so glad to do before and afters.
A combination of the bike, strength program, running, and nutrition have helped me substantially in returning back to fitness after having my 14 month old.
42lbs pounds gained in pregnancy, 54lbs lost
# Teresa Cendreda
Transformation Tuesday
Before 2021 vs After 2021
2020 was the year that Peloton helped me get the most physically fit I'd been in years. But 2021 was a different story.
I logged more than 12.4k minutes of exercise last year. That included hundreds of strength, cycling, and running workouts. But I still put on some extra weight thanks to my hormones changing as I hit 46. I didn't eat badly, but I also didn't say no when someone offered me a slice of delicious pizza.
The last few months I had been feeling pretty down about these changes, but on this first Transformation Tuesday of 2022, I'm reversing the before and after trend if you will. Menobelly is real … and normal. My body is going to do what it's going to do so I'll just keep on moving and love it no matter what.
# Leanne Rowley
I love everyone's success stories but I never thought I'd have the confidence or even get there to post my before and after! Well here goes!
Before January 2022
and after today
60lb down, no sore knees anymore, fitter and healthier than I've been in a long time and not having to wear baggy clothes to hide the flab!
Still a way to go but I'm starting to feel like me again. Peloton you have changed my life!!!!!
I would love for anyone to add me and share the journey
# Kristen B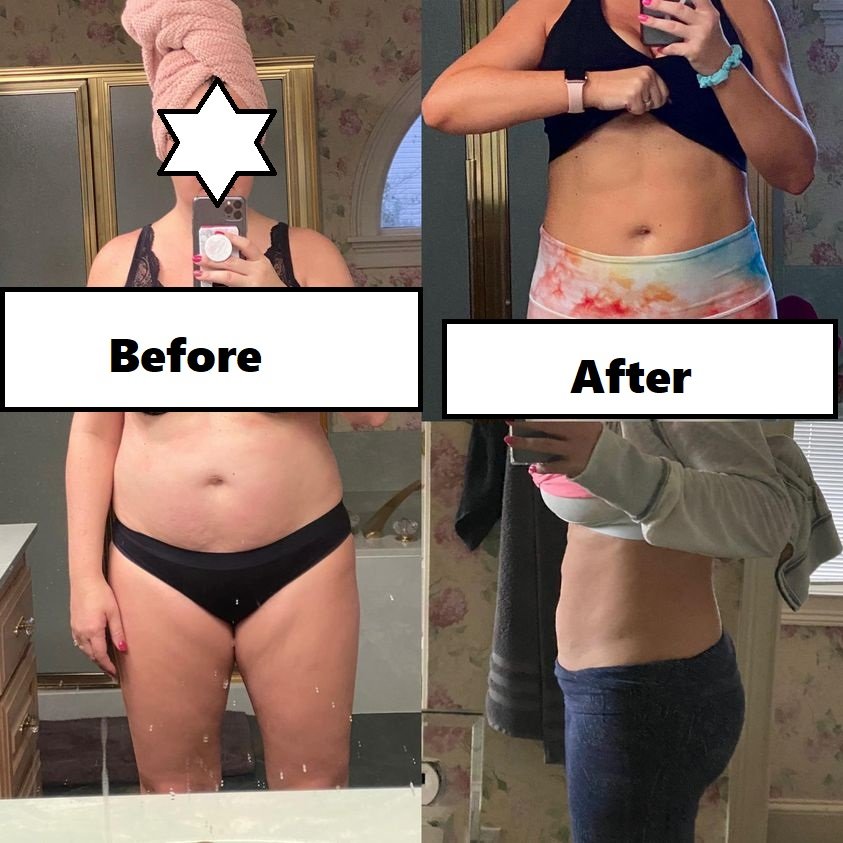 January 2021 I signed up for a free trial on the Peloton app. June 2021 my bike came in. I've had ups and downs with diet and workouts but in January I recommitted to myself to get back on the horse full speed. After a 30 min Yoga class yesterday my body surprised me with new abs
In all seriousness though..getting connected on the Peloton platform kickstarted a change in my physical and Mental heath that I wasn't expecting.
I'm sitting here on day 9 on 75 hard now to take that next step in my mental toughness and can't wait to see what the next quarter brings.
I can't help but be thankful for finding this community though to help me enter this new season of life
# Marissa Singer
As someone who's had the bike since 2016.. this isn't a before and after. Life happens and things get in the way of your progress. I decided to take the reigns a month and a half ago and I'm not looking back. Just hit 2800 rides and obsessed with peloton core workouts now
Peloton Before and After Male
# Jonathan Brown
I'm a 48-year-old Peloton user who wants to encourage anyone who are trying to lose weight or think they're too old or out of shape. Before we received our Peloton, I shed 120 lbs by adjusting my diet and sticking to it. I'm delighted I did it—I'm healthier than ever.
I used every excuse in the book to put off losing weight—diets aren't pleasant, I'm too old to lose weight, aging slows your metabolism, it would be hard, it would be expensive to eat properly or pay someone to help, etc.—but trust me, if I can do it, anyone can. It only takes discipline and accountability, which I had none of until I got guidance.
I also appreciate my family and friends' support.
I utilized SOTA (State of the Art) because it worked well for me and I was into it, but if it's a healthy way to lose weight and you're excited about it, do that program.
Like Peloton workouts, weight watchers, Optavia, intermittent fasting, and SOTA work for certain people.
I'm very glad for my Peloton since it makes maintenance (regular diet life) so much simpler to get my exercise in and keep the weight off, however much of it is that I've altered my eating to a healthy diet 90% of the time with 10% for the good stuff lol.
I'm grateful to having done this, and maybe God will let me live a few more years because I'm healthy. "Never say never with God," I thought. Looking at them, Jesus remarked, "With people this is impossible, but with God all things are possible."
# Keith Dyke
Six months later, Peloton won't help you lose weight! It will aid you.
I've had the bike for almost four years and Tread+ since they were released, and my weight has always fluctuated between 280 and 300 lbs. I ride outside, run triathlons, and perform intermittent fasting.
Thanksgiving 2020, I achieved 304Lb and decided to do more, so I agreed with my wife that we would not have any "snacks" in the home, eat more fruit, and be more mindful of food and portion size. Add dedicated usage of the Peloton(s) and Tonal and a positive attitude.
40 lbs in 6 months (wife is down 25, and interestingly our son is down 50).
Our goal is better health and well-being. We feel empowered to discuss what we want as a family, not on a diet. We're more than pants! Despite our high credit card bill from buying them. Hope this helps someone.
# Tim O'Roarke
My journey from 300 to 217.8 took a little longer than most of the stories here. As of this morning, I was at 217.8.
Since I started the Peloton 75 days ago, my life has changed a lot, and it has given me a new sense of drive.
I still have work to do, but first you have to want to change. When you try, you can do anything.
# Tom Tschampel
Peloton family! I wanted to celebrate my first year with this fantastic community and instructors. Down 65 pounds! 162lbs from 227.
First, posting this photo is hard. But showing my shift was vital. If you're considering buying the bike, it's worth it.
My background first. My weight has plagued me since adulthood. Always heavier than I should be. I lost weight on a few regimens, but I was always self-conscious. I wanted to lose weight.
My mother's college Sheila Marie O'Reilly introduced me to Peloton. I tried the bike at the Columbus studio while visiting family in Ohio. Robin's first ride grabbed me! I bought the bike last Black Friday.
I've just eaten well and drank lots of water. I tried to avoid carbs and stay clean. I never drank, so quitting was easy. The hardest thing has been giving up sweets and ice cream when the kids want it?
This bike, instructors, and community changed my life.
# Marco
Hey peloton enthusiast, This is Marco's peloton before and after success story. He did extraordinary. Read this story with his own words.
I did it!! I lost 64.4 lbs in 60 days!!
I achieved a significant milestone on my Peloton as well. My first ride ever was on Day 1 of my weight loss journey (3/24/21) and on Day 60 (5/23/21), I completed 6,000 minutes of rides!!
That's an average of 100 minutes of Peloton rides each day for 60 days!!
To refresh your memory – I'm a Critical Care Nurse and worked in a couple of COVID ICU's this past year. The weight I gained during the pandemic due to stress, lack of exercise, unhealthy changes in eating habits and poor sleep got me to the heaviest I have ever been.
I desperately needed to lose the weight and am thankful that I was able to do so with the help of my Peloton.
MY 8 WEEK WEIGHT LOSS TRANSFORMATION with PELOTON: Before and After Result
I wanted to give you all an update as I've just completed my 8 week weight loss challenge. I was floored by the number of you that saw my previous posts, acknowledged my achievement and gave so many kind words of encouragement and thanks for my work during the pandemic (9.3k likes and over 450 comments on the last post.
Those words of encouragement from ALL OF YOU helped push me in the final weeks of my weight loss challenge and catapulted me to VICTORY. I won the Golden WWF style GOAT Belt … for being the Greatest Of All Time, losing the most weight ever in 8 weeks for my weight loss group.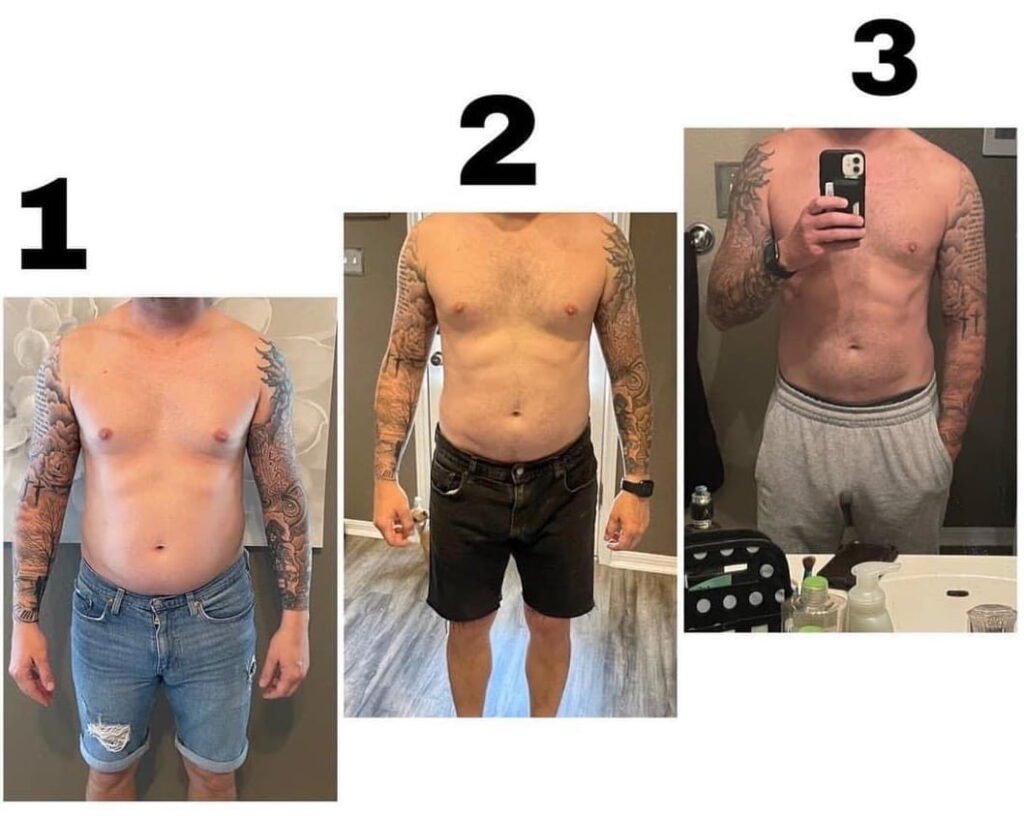 Related: 80 Day Peloton Before and After (See the Differences)
Shout out to Alex Toussaint – Peloton who exclaimed in one of his classes, "Aim High, Fail High" and "if you ain't strugglin', you ain't hustlin'". I really took those messages to heart and it helped propel me to the massive success I achieved!
I know there will be a lot of you wondering exactly how I achieved this amazing transformation in just 8 weeks.
I am part of a weight loss group that uses a teams based, one-on-one Coaching approach that is geared specifically towards Men (ages 30-50).
It taught me how to naturally boost my testosterone, increase my insulin sensitivity and my metabolism, increase my libido 😉, kill my sugar addiction and decrease my visceral (gut) fat via diet, exercise, intermittent fasting and good sleep.
I'm just one of many incredible 8 Week transformations in the group! It was 70% diet, 20% exercise and 10% intermittent fasting.
TBH, working on the frontlines with COVID patients in the ICU this past year (most of whom were diabetic and obese) really scared the hell out of me. My weight loss program focuses on mind and body.
It has helped me become better in tuned with my physical self and also changed my relationship with food by exploring and confronting the issues that have gotten me to this point in the first place.
Read Also: What Muscles Does Peloton Work?
It's coaching done in a teams approach so I have also had teammates (on the same journey) that have been motivating me and supporting me via a private Facebook group (like this but much smaller) which has helped to keep me accountable and has pushed me off of the couch when all I wanted to do was lounge and watch some Netflix.
Related: Peloton Legs Before and After (Know the Facts)
Workout wise I did about 95% of them on my Peloton – all different kinds of classes but tried to focus on HIIT & Tabata style rides. I love electronic music so gravitated to those classes a lot because they reminded me of the pre-pandemic days of going out dancing with friends.
I also mixed in some runs, hikes, hills & stairs (I live in San Francisco) and burpees. Mostly around 15-30 minute HIIT style workouts where I was getting my heart rate up and down but also did some 45-60 minute ones for endurance.
IMO, the things that made the most impact on my weight loss were mindset and diet. The program helped me understand my Why's and my ever evolving relationship with food while the diet (although quite clean) allowed me to eat as much as I wanted from a select list of foods designed for this type of weight loss in Men.
Also, being part of a group going through the same journey kept me accountable and provided a level of support and camaraderie that made all the difference.
Related: Peloton Workout Plan, Schedule and Diet Regime
I really loved taking Peloton classes simultaneously with my teammates. It was fun to have a "pace car" and push each other in a friendly, competitive way.
The Peloton was vital to my weight loss. The convenience of having it right in my guest room made it easy to get up off the couch and get another ride in if I got a notification on my Apple Watch that one of my teammates just finished a workout.
The Peloton instructors each brought their own brand of motivation to keep pushing me. I actually vividly remember several points in time where I was looking into the mirror as I was riding and the instructor had me tell myself things like "I am strong" "I can do this".
It was truly a gift to get my Peloton and find this weight loss program. They've both changed my life for the better.
Most importantly, I have created healthy habits and a healthy mindset to keep the weight off in the future while still being able to have comfort foods I enjoy occasionally.
I've got some "down time" before my next 8 Week Weight Loss Challenge begins on June 1st. In the meantime, I'll be keeping my head down and maintaining my daily routines, diet and of course, my Peloton workouts.
# Brian Baumgarner
Everyone appreciates weight loss success stories. Especially on this page if it involves a peloton. I suffered 3 years ago. 215 lbs, exhausted. 32-year-old hypertension and cholesterol. Genetics and lifestyle contributed. Fast food and soda/beer diet.
After having Lennan, I resolved to get healthier. Worked somewhat. I fell to 200 and maintained that weight for a year and a half. I bought a Peloton.
I rode it approximately 60 times in the first year, but after having my son, I lost drive and dropped to 190lbs. Sluggish with two kids. I've done over 120 rides, changed my diet, and today completed a picturesque ride for #200.
The left shows me at 215 lbs. The right is me today at 170 lbs, healthy cholesterol, healthy BP, mid-scenic ride wondering why I'm getting so many high fives while appreciating New Zealand national parks and peddling.
Finally, and thanks for reading, the bike works if you work with it. Enjoy your ride.
# John Mullins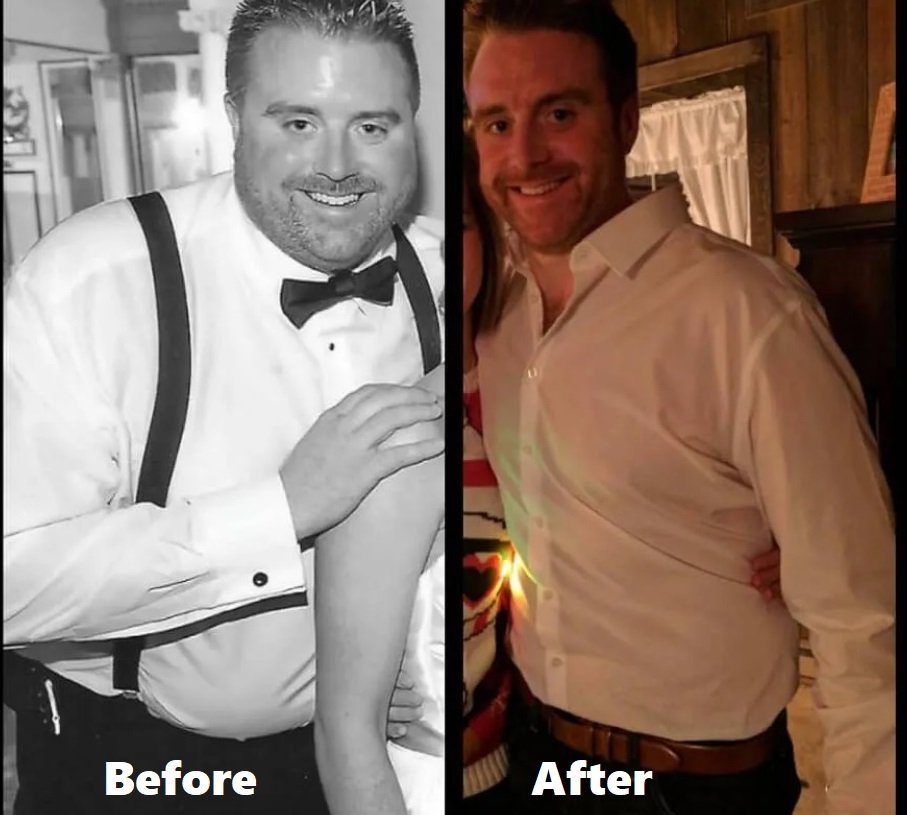 I never expected this. Overeating. Overdrinking. Stop everything. Just enough. My kids needed this. I altered everything. After two major foot surgeries, my doctor said I could never run again, so I wondered how I could lose weight. I was wrong about biking being as effective as jogging. Road bikes work.
My first run was one mile and left me gasping on my garage floor. Hoping neighbors didn't notice me leave and return that quickly. I gradually reached 17.5 miles a day. Then it got cold. I went out daily. Dark, cold rain, any weather, but snow and ice stopped me. I was afraid I would give up biking since I couldn't go outside.
My peloton bike came then. I'm lost without it. I rode it 500 times today after almost two years. 100 pounds lighter. None. My doctor claimed my bloodwork is perfect and I've entirely recovered. Sleep apnea caused 187 nightly instances of stopping breathing (during testing longest being a minute).
I tested negative last month and no longer need a CPAP. I'm applying for life insurance. On Tuesday, I turned 35. I tried some old high school clothes in my old room when I visited my parents and they were too big. Great feeling.
I joined this page a couple months ago (I don't know why I didn't realize it existed) and love hearing everyone's amazing tales. Everyone's support is great. Thank you for pushing me every ride.
We worked together whether you finished first or last. Sweating. Lol. Great feeling. Amazing instructors motivate us every ride. Thanks! (Do they read these? Lol) Primarily for Carter and Quinn. Thus, my rider name. Perfect. Peloton rocks. We're all amazing, really.
I'm inspired to get on when I'm sleepy since I know you're all working hard. Whether you're starting your fitness adventure or…I don't know…in Olympic shape (I'm somewhere in the center). We're all in this together. We support each other. Thank you for letting me join. Hello Pelotonians!
Peloton Weight Loss: Does it Really Work? FAQ's
How long does it take to see results from Peloton?
You should expect to see the first results in 2–3 months, and significant weight loss of 10–15 pounds will not be seen until at least 4–5 months have passed. The trick is to get on the Peloton as often as you can (at least 4 times a week).
Can you lose weight with just Peloton? Really?
You can burn between 400 and 1,000 calories each hour in a cycling class like Peloton. It is true that you will lose weight using Peloton workouts as long as a calorie deficit is maintained through a combination of a balanced diet and regular exercise.
Do you need to ride Peloton every day to lose weight?
Actually it is not necessary to ride peloton daily to lose weight but my suggestion is, Start with 30-60 minutes 4-5 days weekly then you will realize what need to do.
Concluding Words
I'm really happy to receive so much positive feedback and support from our Peloton community ❤️ I'm sharing my story in the hopes that it might reach people that have also been struggling with their weight… to let them know that with the Peloton, a clean and healthy diet (avoiding sugar, processed foods and alcohol) and addressing the psychological issues surrounding your weight, anything is possible
Thank you for reading my peloton success story
Information sources: Facebook Peloton official group
Also Read:
What to Know About Peloton New Scenic Classes?