Can you connect apple watch to peloton? Yes! Connecting apple watch to peloton is very easy. Peloton confirmed, Now one tap Apple Watch integration feature has rolled out for Peloton Bike, Bike+, Tread, or App workouts.
As soon as you pair the peloton Bike, Bike+, tread and tread plus with your Apple Watch, a workout will begin on the Watch and your heart rate will be shown on the peloton's screen in real time, which will be used to calculate your Strive Score. Whenever you finish your ride, the exercise on your Apple Watch will stop immediately, and you can access the post-workout data in the Activity app on your iPhone as well.
Update 09/03/2022
One Tap Apple Watch Integration with Peloton Bike, Bike+, Tread, Tread Plus or App workouts
Make sure that Peloton app is installed on both your iPhone and Apple Watch
Open the Peloton app on your iPhone and Tap more
Tap Apple Watch
Tap on Set Up
Tap Connect to Health App
Finally, In Health app; Turn On all option. Thats it.
When you start a workout on the peloton bike or treadmill, you'll receive a notification with a quick button to "Connect" for the workout.
If you don't want to wait for that notification, or it hasn't arrived for some reason, connect yourself with the Peloton app on your Apple Watch and Initiate the Connection.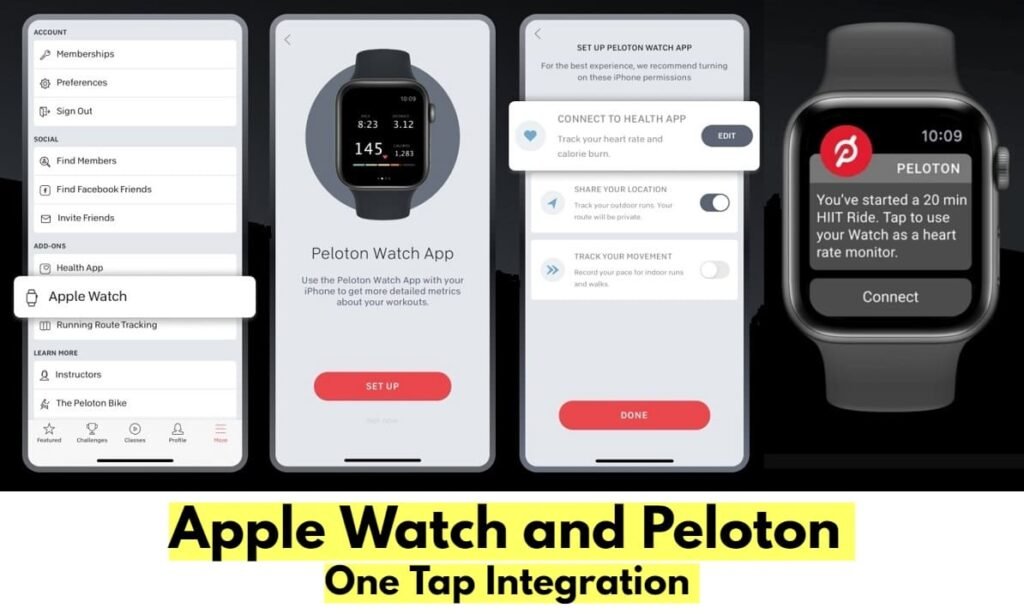 The app on apple watch will monitor your heart rate, allowing Peloton to calculate your Strive Score. With the Strive Score, you can see how well you are performing in each heart rate zone.
And it can be used to compare performance across all workouts, including cycling, strength, HIIT, bootcamp and more.
Why won't my Apple Watch connect to my peloton?
If there is problem, Restart your iphone, peloton bike or tread and apple watch and then try again.
## NOW THE BELOW METHODS ARE OUT OF DATE ##
How to connect Apple Watch to Peloton? Follow this Easy Steps
To make it work, follow these steps:
On your iPhone, launch the Apple Watch app.
Go to the My Watch section at the bottom and click on "My Watch"
Follow the menu bar and select 'Workout.'
Turn on "Find Gym Equipment"
Choose a ride with the Peloton bike+
Click 'Start' to begin.
Hold your Apple Watch up to the top of the screen
Tap 'Connect' on your Apple Watch
Press 'Start' on the Bike+ to start your ride
You'll see your heart rate on the left side of your screen when your ride has begun correctly if your Apple Watch is properly connected to your iPhone. It's possible that you'll need to restart your Apple Watch (hold the Digital Crown and side button together until the Apple logo appears) or your Peloton Bike+ (turn it off and on again) if you're having problems connecting or pairing with your Apple Watch.
How to use the Apple Watch to monitor your heart rate when riding a Peloton bike or Tread?
Peloton do not have Apple GymKit on board, therefore you cannot utilize your Apple Watch as a heart rate monitor by pairing it with your Peloton Bike, Tread, or Tread+ through Bluetooth. That is, unless you use an app developed by a third party.
The heart rate monitor on the Apple Watch may be used with the Peloton Bike, Tread, and Tread+ via third-party apps. A third-party app for iPhone and Apple Watch is required if you wish to perform this kind of thing. Here are a few possibilities to consider:
BlueHeart
ECHO Heart Rate from the Watch
HeartCast
It's important to note that some of these applications need subscription after a certain period of time, while others require you to watch advertisements before you can start transmitting your heart rate.. You may link your Apple Watch with a Peloton Bike, Tread, or Tread+ after downloading one of those apps – or an alternative – for iPhone and Apple Watch. See the following steps carefully
the third-party program should be opened
Set up the app according to the directions provided by the developer.
Check to see if Bluetooth is turned on
Choose a training session on your Peloton and get started.
Choose "Heart Rate Monitor" from the drop-down menu that appears when you click "Start."
Under Available Devices, you should see the app you selected.
Select 'Connect' from the menu that appears.
When the pairing pop-up displays on your Peloton screen, certain third-party applications instruct you to hit cancel rather than pair. To get an app to function, follow the instructions provided by the developer.
Once everything is set up, your heart rate will be shown on the left side of the screen, obtained directly from your Apple Watch. In comparison to utilizing GymKit on the Bike+, it's not perfect, but for people who already own one of the other Peloton devices and don't want to spend money on a chest strap, this is an option.
Read More:
How to Connect Airpods to Peloton? Easy Steps with Pics
How to Watch TV on Peloton Bike and Tread? Explained
How to Watch Netflix on Peloton Bike? (2 Methods Explained)
How to Turn on Peloton Bike & Get Started Spinning?
How to Clean Peloton Bike Properly! Detail Guide
How to Unclip and Take Off Peloton Shoes? (Beginners Guide)
How to Change Pedals On Peloton bike? (Full Process)
Peloton Bike Calibration: How To Do It Properly As Beginner?
How to Adjust Peloton Bike and Bike Plus Screen?(Full Guide)
What Is A Good FTP Score On Peloton: How To Gain It?
How to Make Peloton Seat More Comfortable? (8 Easy Steps)
How to Put on Peloton Shoes and Clip Into the Pedal?
How to Connect PowerBeats Pro to Peloton? (5 Easy Steps)
How to Unsubscribe and Delete Peloton Account?
Why Do You Need Peloton Subscription? (Benefits Explained)
Recent Posts
link to Peloton Instructors Diet Regime
Peloton is a popular at-home workout device that offers live and on-demand fitness classes. The instructors who lead these classes are held to a high standard, not only in their fitness abilities but...
link to Peloton Instructors Leaderboard Names
Are you wondering to know Peloton instructor Leaderboard names? If yes, you're in right page. Interestingly, you're not alone as most peloton enthusiasts come here to know the Leaderboard names of...