From training styles to motivation, there are vast reasons behind Peloton instructors being one of the best when it comes to fitness exercises. However, there's more to these instructors than their abilities to help you go past your limits.
These fitness instructors also mesmerize members with their looks and grooming too. In this aspect, this article reveals some of the hottest Peloton instructors with the highest review ratings of their quality mentorship.
15 Hottest Peloton Instructors (Male and Female)
Do you want to add some extra motivation to your exercise routine? You can stream the exciting classes on the Peloton app and follow the instructions of Peloton instructors. If you wonder who the hottest Peloton instructors are, look no further!
| | | |
| --- | --- | --- |
| Instructor Name | Class Taught | Famous For |
| Jess Sims | Tread | Slim and stunning figure, blonde hair |
| Callie Gullickson | Bike, Strength | Athletic figure, blonde hair |
| Kendall Toole | Bike, Boxing | Athletic figure, Great fashion sense |
| Tunde Oyeneyin | Bike, Strength | Energetic slim figure |
| Olivia Amato | Strength, Bike and Tread | Slim and stunning figure |
| Aditi Shah | Yoga | Slim, Art sense, Cool Mind |
| Alex Toussaint | Bike | Stunning and energetic figure |
| Cody Rigsby | Bike | Great personality, good figure, dancer |
| Andy Speer | Tread, Strength | Great physique, energetic man |
| Matt Wilpers | Bike, Tread | Smart, Funny guy |
| Ben Alldis | Bike, Strength | Stronger body, great motivator, nice guy |
| Adrain Williams | Bike, Tread | Energetic guy, good figure |
| Denis Morton | Bike, Yoga | Great motivator, fashion sense, stronger body |
List of Top 15 Hottest Peloton Instructor (Male and Female)
This piece holds some of the fiery trainers on Peloton. While these instructors take you on cycling lessons and assist you through cardio, strength, and stretching, you can never get bored with these ranked instructors in the list below.
# Hottest Female Peloton Instructors
Jess Sims – Hottest Peloton Trainer Female
From the contagious energy to the endless motivation, there are vast reasons why Jess Sims emerges as one of the most relatable peloton fitness instructors. A look at this instructor reveals years of workouts, as her appearance alone can be a source of motivation to get you running past barriers.
The moment her face pops on the screen, you are sure to get the right mood setting. This charming instructor also holds top tracks that make classes less challenging, as Sims' playlist is packed with refreshing songs that pump you better.
Do you seek an instructor that can take you through your morning exercise session on a foggy day? Then, Jess Sims would be the right option for you to "sweat it out."
Callie Gullickson – Hottest Peloton Instructor
Callie Gullickson lives and works in New York City. She is a trainer, performer, and model.
Born and raised in Florida, Callie has always beenactive. She played sports growing up and continued her love of fitness by working as a personal trainer after college. It was through her work as a trainer that she discovered her true passion: helping people reach their fitness goals.
As an instructor, Callie is known for her tough love approach. She'll push you to your limits and make sure you get the most out of every workout, but she'll also be there to high-five you when you cross the finish line. Her classes are high-energy and will leave you feeling sweaty and satisfied.
Even though all of the Peloton instructors are nice and happy, Callie really shines. Her skin color goes with her almost-blonde hair, and her big smile makes it all come together.
Kendall Toole – Hottest Peloton Cycling Instructor
Kendall is someone who really understands the challenges of trying to stay fit and healthy. She's been through the ups and downs of fitness herself, so she knows what it's like to struggle and overcome obstacles. That empathy comes through in her teaching, and it makes her relatable to everyone who takes her classes.
As a professional gymnast and athlete, Kendall has developed endurance and muscular strength.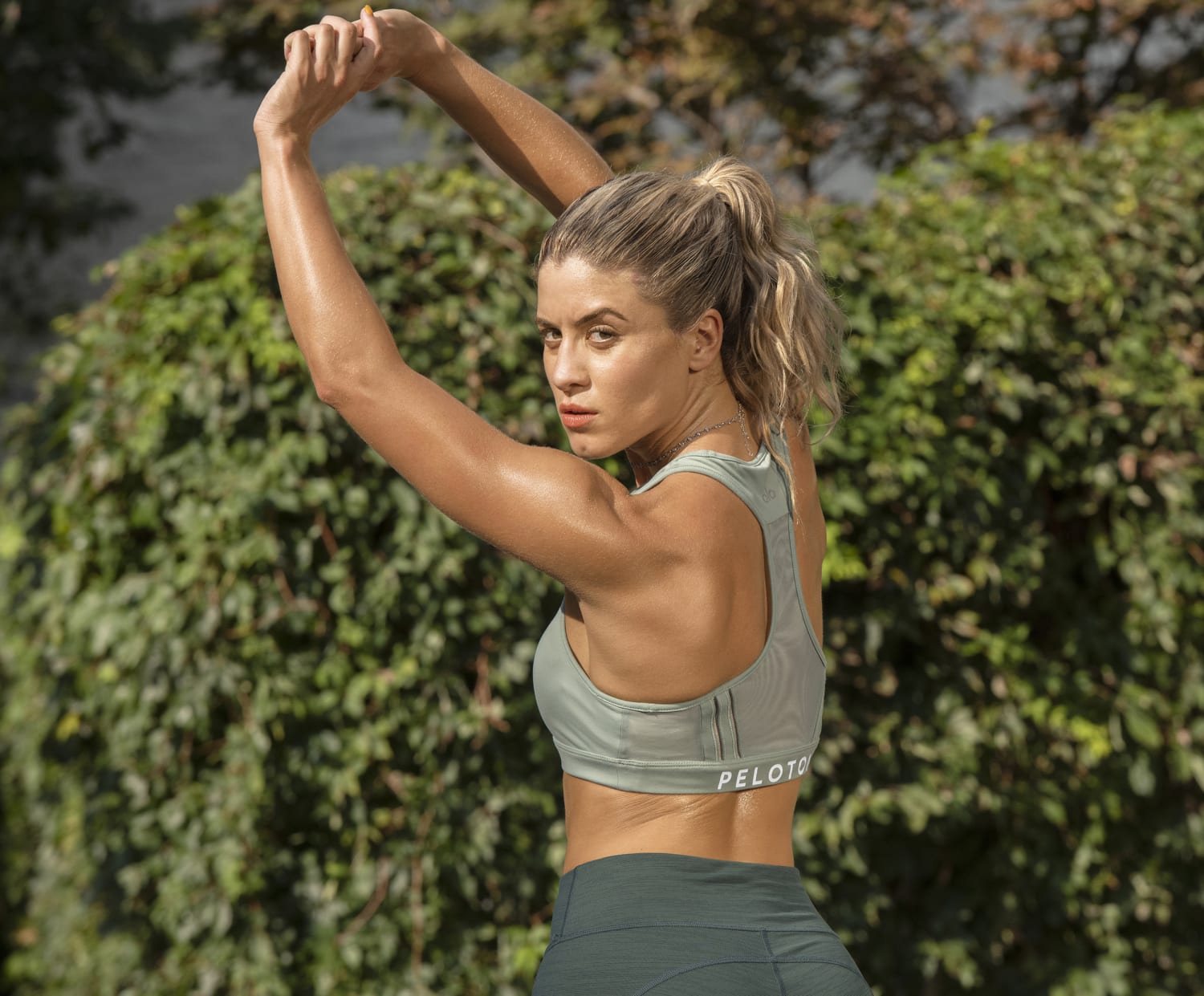 Kendall is the kind of person who lights up a room when she walks in. That same energy is evident in her Peloton classes, and it's infectious. You can't help but smile and push yourself harder when you're working out with Kendall.
What makes Kendall's classes so special? Her charm and positive attitude on the bike have made her very popular, which you can see in her Peloton classes.
Tunde Oyeneyin – Hottest Woman Peloton Instructor
With self-constant improvement, Tunde Oyeneyin pushes Peloton members towards emerging better versions of themselves. The fit stature and excellent training style of this instructor push more exercisers to the point of utilizing their potential.
She has trained for more than 15 years in triathlon sports, and this personal experience makes her well-versed in assimilating the basis for excelling. This Peloton instructor's favorite remark on this platform, "embrace the beauty of uncertainty; it is a place of infinite possibility," is sure to get you ahead of your mates in fitness games.
Olivia Amato – Hottest Peloton Strength Instructor
Olivia is one of the hottest fitness instructors who "does it all," as she offers tread boot camp, outdoor, cardio, strength, cycling, stretching, and running sessions. Her journey all the way through as a Black woman within a space of predominantly whites is inspirational.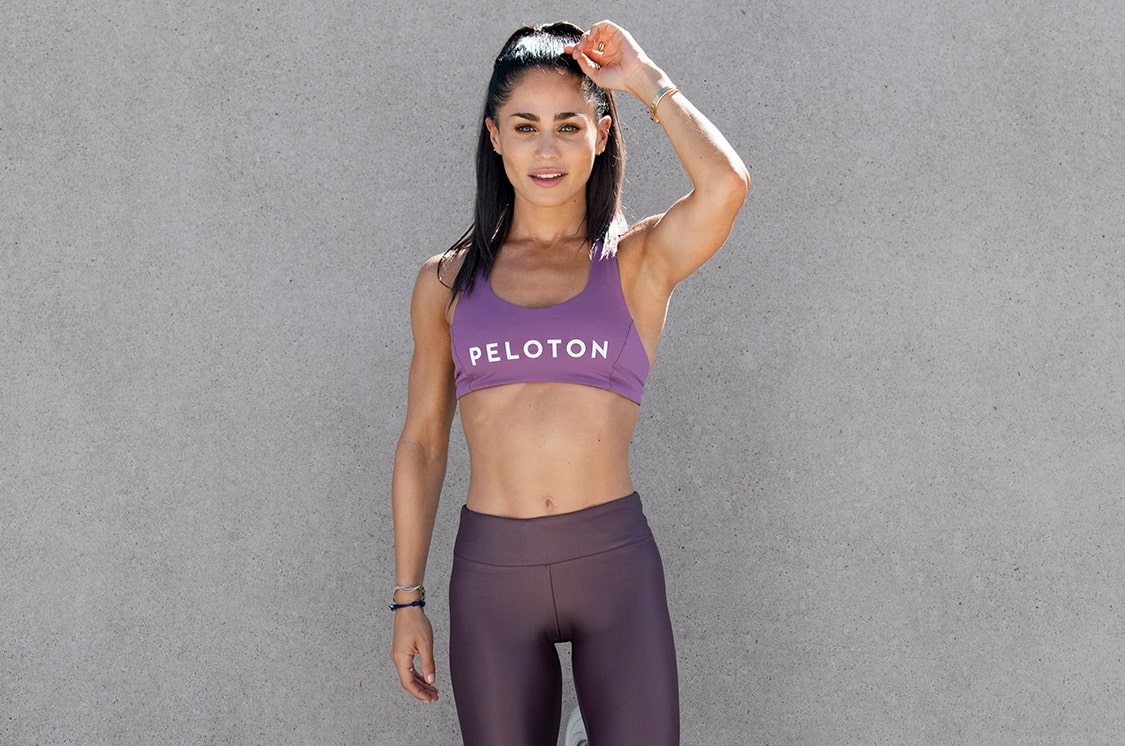 As the number one hype girl, she takes members through a super tough routine with the best encouragement and motivation you can ever get.
What's better is that the stunning instructor is also great at providing support and easy explanations on how folks can engage in the various activities. The runner and triathlete previously competed in the Ironman World Championship (2016) and New York City Triathlon (2017).
Aditi Shah – Hottest Peloton Yoga Instructor
Aditi shah is one of the star instructors on peloton. her classes are always full, and people seem to love her style.
Aditi Shah is one of the hottest Peloton yoga instructor. Her yoga grace and understanding are amazing.
She loves yoga and has led popular classes. Shah is a Puma athlete, which adds to her versatility.
She has a great personality, and her classes are always challenging. if you're looking for a great workout, then be sure to check out an aditi shah class on peloton!
# Hottest Male Peloton Instructors
Alex Toussaint – Hottest Peloton Instructor Male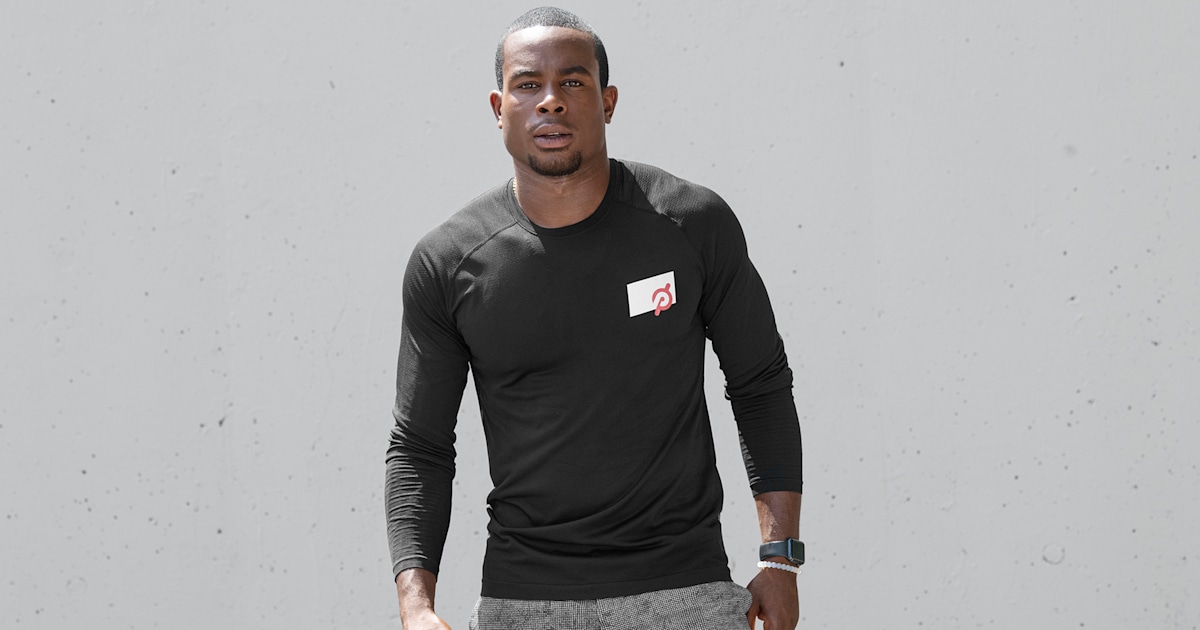 For tough workout sessions that make the body feel great physically and mentally, Alex Toussaint is the best instructor to consider. His fit physique and no-nonsense attitude come in handy for encouraging members to go through sessions with great effort.
This trainer exudes high positivity and sweats alongside members, ensuring they maintain a good mood afterward. He further impacts exercisers with excellent knowledge on how to maximize their workout.
Andy Speer – Hottest Peloton Tread Instructor
In the fitness world, there are few bigger names than Andy Speer. He is known first and foremost as an elite personal trainer who has helped countless people get in shape, but he's also become a popular name as an instructor for Peloton, the leading at-home fitness company.
If you've ever ridden a Peloton bike, you know that Andy Speer is one of the instructors. His high-energy classes always leave riders feeling energized and motivated.
With his amazing abs and arms, Andy's strength training class is a great way to build muscle and tone. When you combine it with the treadmill classes, you get a good idea of how to work out your whole body.
Matt Wilpers – Hottest Peloton Cycling Instructor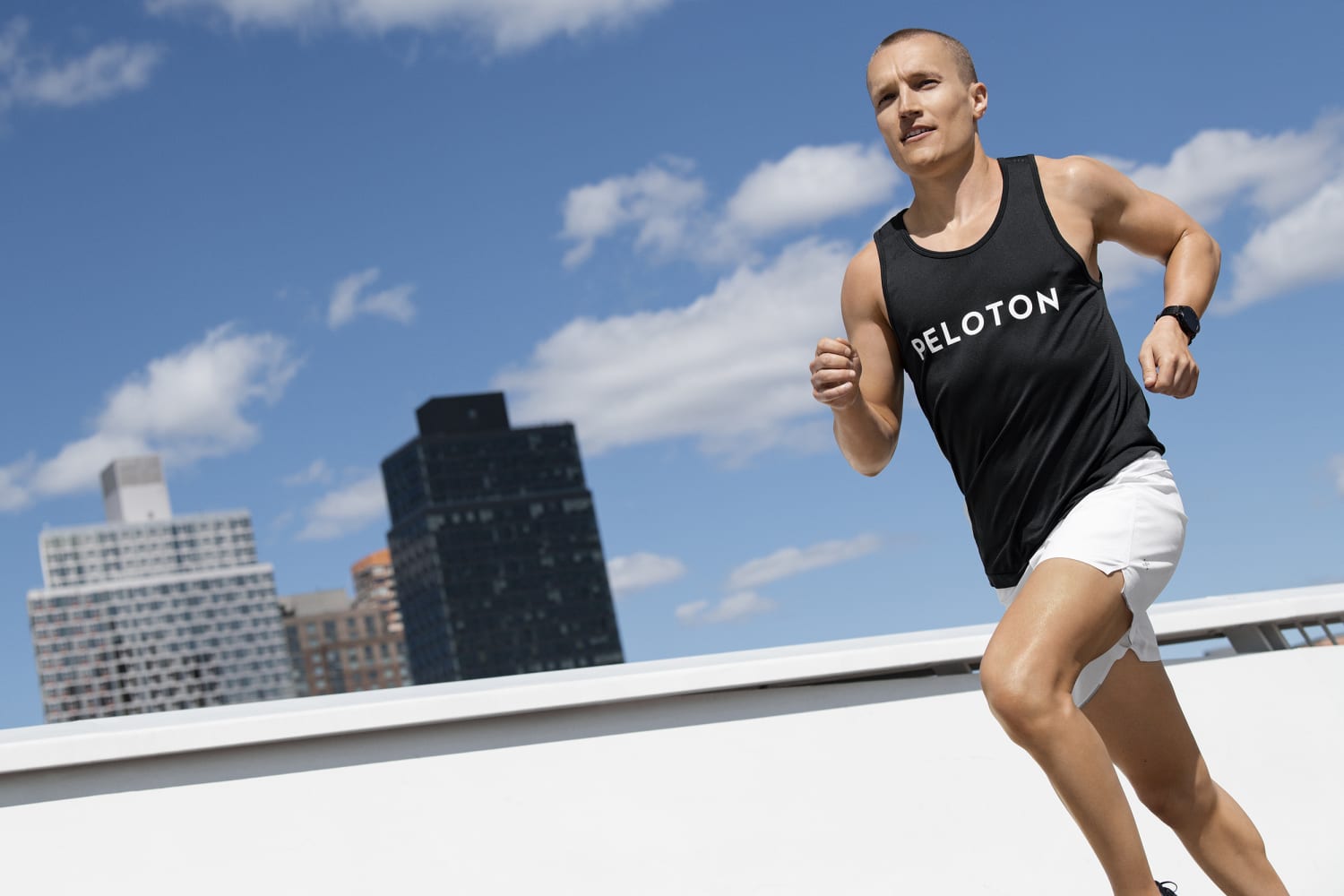 This trainer's in-depth understanding and knowledge stem from personal experience, and he has been involved in triathlons (since 2000) and took up road racing after relocating to Washington DC.
Since June 2008, Matt has been training cyclists and runners across all ability levels. Known for the popular mantra "train hard, train smart, and have fun," you are sure to have an exciting session with this instructor.
Outside coaching, Matt engages in outdoor surfing during summer and lifts weights in the gym.
Ben Alldis – Hottest Peloton Strength Instructor
Ben Alldis is one of the most popular Peloton instructors. His high-energy classes and good sense of humor have earned him a devoted following.
Ben Alldis is another one of the hottest instructors on Peloton. He loves fitness, running, and cycling.  Ben started out as a personal trainer and is now a Peloton instructor as well as a successful and liked person.
Whether you're a beginner or an experienced cyclist, Ben's advice is sure to help you reach your fitness goals. So saddle up and get ready to ride!
Adrain Williams – Hottest Peloton Bike Instructor
Although one of the latest addition to the interactive staff of Peloton, Adrain Williams offers one of the best training to members. His mien exudes a special fitness aura that relays years of practice and perseverance.
Thanks to his intensity and sense of humor, this instructor can make you fall in love with various fitness routines with a burning passion. Thus, he emerges as a go-to trainer for strength training that leaves the muscles quivering. In terms of movements, Adrain's classes are simple yet fulfilling.
Denis Morton – Hottest Peloton Yoga Instructor Male
Denis Morton is a Peloton instructor who has been with the company since it was founded. He has inspired and motivated countless riders across the globe with his upbeat energy and passion for fitness.
In a fitness industry that is constantly changing, Peloton remains one of the most popular workout choices for people looking to get in shape. AND instructors like Denis make it possible. Denis instructs both yoga and cycling at Peloton.
Denis Morton is a hot Peloton instructor who doesn't look his age. The good news is that his strong parental inspiration and advice, along with his dad jokes, help him be his best.
FAQs
Who is the highest-paid Peloton Instructor?
While various trainers on Peloton earn pretty well for their hard work and fitness passion, Cody Rigsby is currently the highest-paid. This awesome instructor earns about $700 for each Peloton class and has other sources of income that add to his growing net worth.
The intricate workout style of this instructor is admirable and has been helping exercisers achieve their fitness goals. With his better physique, you can tell that Cody is passionate about fitness.
Which Peloton instructor holds the most fun sessions?
You would find Peloton instructors having fun sessions that keep members engaged for longer periods, from beginner to advanced levels. However, the most fun trainers you should consider taking classes from include:
• Jess Sims
• Cody Rigsby
• Tunde Oyeneyin
• Adrian Williams
• Becs Gentry
From their sense of humor to high motivation, you would find each session with these instructors mentioned above to be thrilling.
Who are the most famous Peloton instructors?
While various instructors on Peloton are good at what they do, you would find some with greater positive reviews than others. With that in mind, the following are among the top famous Peloton instructors.
• Jess Sims
• Cody Rigsby
• Becs Gentry
• Sam Yo
• Emma Lovewell
Final Words
Peloton operates an outstanding fitness technology that offers on-demand live streams to members who work out at home. The Peloton app has between 50 and 60 classes available for streaming on any given day.
With that much to offer, it is worth taking spinning on your bike with top instructors in the fitness world. If you are interested in finding the hottest Peloton instructors, kindly read through this piece for a few recommendations.
Read More
6 Toughest Peloton Instructors Ranked by Difficulty Level
5 Best Peloton Instructors for Beginners