As we all know, regular exercise is a way to keep fit and burn some calories. Working out with a stationary bike such as the Matrix bike will help your body burn fat and build strength in your muscles, hearts, and lungs without frequent visits to the gym.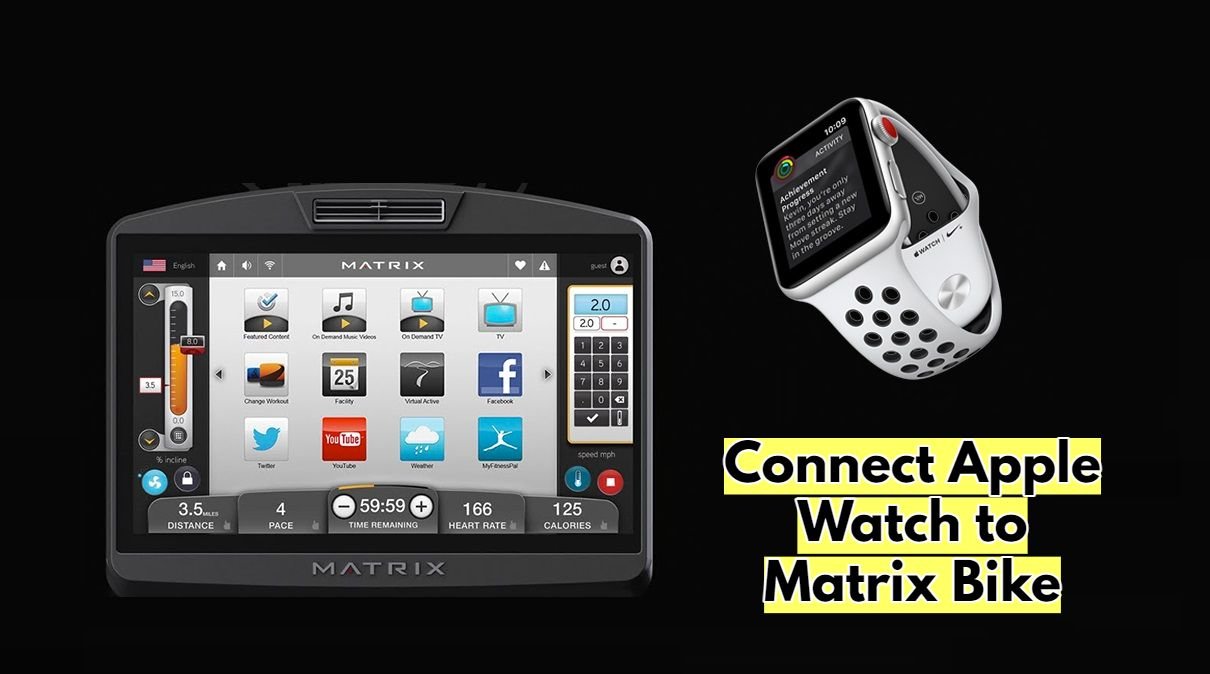 The Matrix bike has excellent features that one can customize, and connecting an Apple Watch to it takes the experience to a new level of excitement and motivation.
This piece will show you how to connect an Apple watch to a Matrix bike.
Can You Connect Apple Watch to Matrix Bike?
Yes, you can connect Apple Watch to Matrix Bike using Gymkit. Open Apple Watch Settings, tap Workout, and switch on Detect Gym Equipment. Hold your Apple Watch near the gym's contactless reader, display towards the reader.
Connecting Apple Watch to Matrix Bike
You can connect Apple Watch to the Matrix bike with Gymkit, a technology platform for Apple. So, you'll need an Apple Watch Series 2 and above, watchOS 4.1 and above, and membership in a Gymkit-supported gym. 
The connection between these two devices enables them to exchange metrics such as distance covered, calories burned, speed, heart rate, and more. The steps involved are:
Step 1
Set the Watch to detect the Matrix bike using the following steps. Go to "Settings," click on "Workout," and slide the "Detect Gym Equipment" button to ON. You can also go through your iPhone by clicking on "My Watch" and "Workout" and clicking on the "Detect Gym Equipment" button to ON. 
Step 2
Look for a sign like "Connect with Apple Watch" on the Matrix bike to confirm that it is compatible with the Apple app. 
Step 3
Position the Watch a little distance from the contactless NFC reader on the bike, ensuring the display faces the reader. The Workout app launches, and you'll hear a beep from the Watch confirming that it has connected to the bike successfully.
What you should know About Matrix Bikes
The Matrix Fitness company offers different bike options for home workouts. The range of bikes includes:
The Recumbent bikes; come in R30 and R50.
The Upright bikes; also come in R30 and R50.
The Studio bike; is the Cycle ICR50.
The R30 and R50 bikes have a lot in common, but the R50 has Exact Force, an innovative resistance system that tends to give a better user experience. It also has an improved parts warranty and a step-assist stand. 
The Upright and Recumbent bikes have three consoles with exciting features such as:
Screen display
Built-in workout 
Passport HD videos
ViaFit tracking
Speakers
Reading rack
Bluetooth technology
USB port etc. 
Perks of Using Matrix Bikes for Exercise
Matrix bikes may cost a bit higher than other brands, but the numerous benefits that come with them are worth the price. Some of the benefits include: 
Passport readiness
Improved cardio fitness
Burning of calories
Firming up muscles in the lower body
Allows low-impact workout
Improved blood pressure
Benefits of Using an Apple Watch
Aside from time-keeping, the Apple Watch series does much more. Over time, the Watch has evolved and has various features that perform a wide range of functions for the user. 
An Apple watch gives you swift access to notifications, lets you listen to music on the go, offers instant response to calls and messages, helps you find your iPhone, and contributes significantly to your fitness and wellness. 
In contributing to the user's fitness and wellness, Apple Watch has the following features:
Add Workout: it has the Add Workout feature that lets you find different workouts like dance, kickboxing, Pilates, yoga, and tai chi, and select the one you want. It also allows you to record and read your workout on the watch screen.  

Heart Rate app: the Watch has an in-built heart rate app that monitors your heart rate. It takes measurements and shows the records on the screen at intervals to keep you up to date.

Fall Detection: this app is usually available in Series 4 and above of the Apple Watch. It detects any fall during workouts. It'll raise the alarm and call for emergency services.

Electrocardiograph: the electrocardiograph in an apple watch reads your heart's rhythm and signals any irregularity. It does this when you place your finger on the Digital Crown and waits for about 30 seconds; the result will appear on the screen.
Importance of Connecting Your Apple Watch to Matrix Bike
These two pieces of equipment come loaded with features for an improved lifestyle. Then, connecting them will give a mind-blowing result. So, here is why you should connect your Apple Watch to your Matrix bike.
Connecting an Apple watch to your Matrix bike helps you read and monitor your heart rate during a workout with the bike. The Watch calculates electrical signals from the heart and sends them to the screen for you to read. 

With your heart rate, you can determine the intensity of your workout and improve your cardiovascular health. You may also be able to burn more calories by maintaining a particular heart rate over time.
You get various signals and alerts on your Apple Watch during a workout with the Matrix bike. It could be a signal that prompts you to do more to get better results or warning signals that stop you from overstretching yourself.

The optimum result of your workout sessions is guaranteed when you combine the reading from both equipment. They have many features that'll pair to provide you with complete metrics and an excellent user experience.
How to Begin and End a Workout Session after the Connection
After connecting the Apple watch and the Matrix bike, you can begin a workout session and end it by going through the bike's onboard controls. It saves you the time of going through the Workout app. Here's the simple process below:
Begin your workout session by pressing "Start" on the bike.
End the session by pressing "Stop" on the bike. 
Conclusion
Using the Matrix bike to exercise at home is a convenient way to burn calories and maintain fitness but pairing it with an Apple watch is the smart way to get specific results as you stay fit.
You can follow the steps in this piece to connect your Apple watch to your Matrix bike. 
Read More:
How to Connect Apple Watch to NordicTrack Bike? Explained
Connect Apple Watch to Peloton with One Tap, New Feature!
How to Connect Apple Watch to Soulcycle Bike? Explained
How to Connect Apple Watch to MYX Bike? Solved!
How to Connect Airpods to Soulcycle Bike? It's Easy!