In the bid to stay fit and remain in good body shape without frequent gym visits, many people have embraced the use of indoor fitness equipment such as the Myx bike to exercise at home.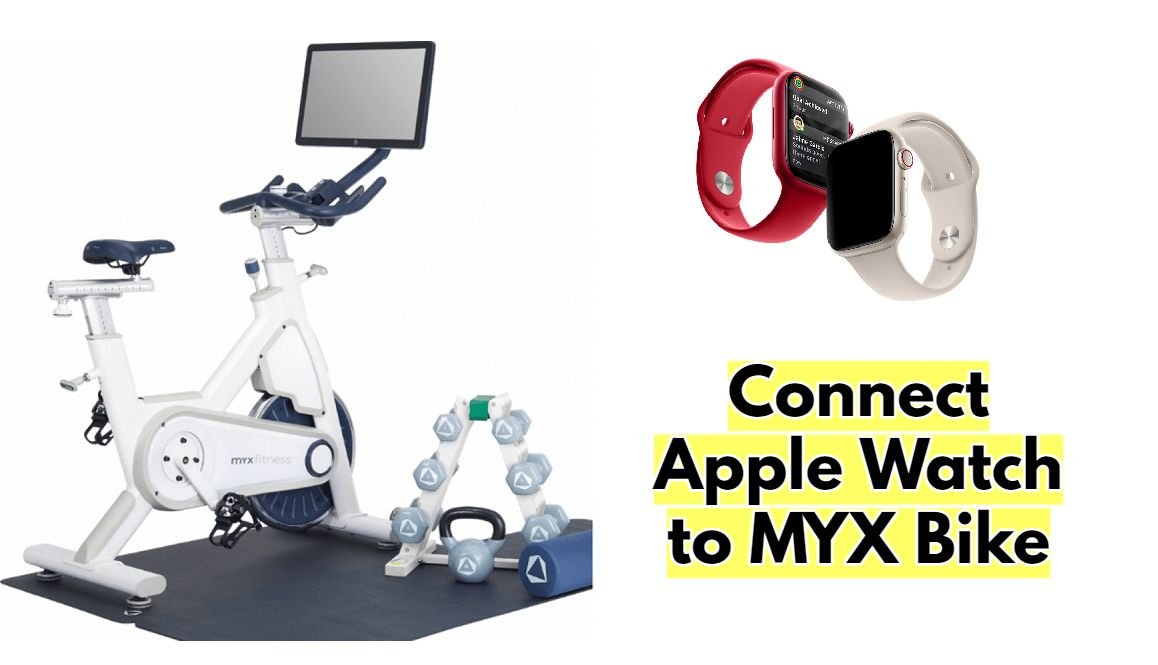 Myx bikes comes with many accessories that help to make your workout sessions exciting.
It is cost-effective and offers the user a lot of conveniences like live classes and the upgraded model, MYXII, improves your overall activities when connected to Apple Watch.
So, if you've been wondering how to connect the Apple watch to Myx bike, please read on.
Can you connect apple watch to myx bike?
Yes, You can connect your Apple Watch to your Myx bike by installing the Openfit mobile application (available for Android and iOS). Install and launch the Openfit application on your Apple Watch, and then enable Bluetooth and Health access. Make sure the Openfit app is open on your Apple Watch to pair it with the bike tablet.
Related Read:

Can You Watch Netflix on Myx Bike? How?

How to Connect Airpods to Myx Bike? Explained

Can You Use Myx Bike Without a Subscription? How? Explained
Features and Benefits of Having an Apple Watch
The Apple Watch series has gone way beyond regular time keeping. This equipment comes loaded with features and functions that make it versatile and valuable to everyone.
Such features include an instant reply to calls and messages, speedy access to notifications, finding your missing iPhone, apple pay, listening to music, and also serving as a fitness tracker.
For fitness tracking, Apple Watch comes with the following:
A Heart-rate Monitor and GPS: It has an in-built Heart-rate monitor and a GPS that helps you manage your health and fitness. You can read your movements, such as the number of steps, standing, climbing stairs, etc.

A workout app: The workout app works even better at tracking runs, rolls, walk-steps, and rides, making it a great workout companion that gives you the necessary numbers.

An electrocardiograph: The watch has an electrocardiograph that works with electrodes. It gives readings from the heart's electrical signals. Some series can detect and tell if your rhythm is normal or not when you place one finger on the digital crown and wait for some seconds.

Fall detection: Another health feature of the Apple Watch is the fall detection hardware that sends an alert when you have a severe fall during a workout. If you don't dismiss the alert in 60 seconds, it'll call emergency services immediately to help you.
Why Connect Your Apple Watch to Myx Bike?
With both pieces of equipment's features and benefits, you still wonder why you should connect your apple watch to your Myx bike? Let's go through them together.
Awesome Features
The Apple Watch is simply fantastic. It is the best in accuracy, functionality, and readability; you cannot go wrong with it.
Its wide range of functions makes it attractive and valuable to virtually all groups of people, no matter their lifestyle and daily activities.
Heart-rate Monitor
Connecting an Apple watch to your Myx bike is an excellent way to monitor your heart rate during a workout and enables productivity.
It measures your heart's electrical signals and transmits them for you to read from the watch. This way, you can tell the level of your workout intensity.
It is easier to burn extra calories and has better cardiovascular health when one maintains a particular heart rate for long, and the Apple Watch sends you such reading when you connect it to your Myx bike.
Signals
The Apple Watch doesn't stop motivating you to do more during the workout. It also prevents you from getting into danger when you stretch yourself beyond limits.
So, the Watch will send you warning signals when you do more than necessary and may endanger your health.
Connecting Apple Watch to Myx Bike
Apple users can now connect their Apple Watch to their Myx bike in a quick and straightforward process that gets you ready to gear in no time. The process includes:
Go to the iOS App Store and download the Openfit app.
Log in to the app.
Open your Apple Watch app, install the Openfit app there and log into it.
Follow permission prompts, such as Health and Bluetooth permissions, and enable them. This step is essential for the smooth running of the app.
Now, click "Start Openfit" on your Watch app and let it run in the app's foreground.
The Watch pairs with the screen that shows the class details.
Then, the bike tablet will connect to the Watch automatically.
Troubleshooting Issues
Here is the basic troubleshooting for connecting the Apple watch to the Myx bike.
Check if your Openfit Watch app is open.
It is necessary to open the Openfit app and let it run in the foreground.
Did you disallow permissions?
It is needful that you grant permission for Health and Bluetooth before you can pair the Apple watch to your Myx bike. The process of granting Health permissions Apple watch is: go to Setting, click on Health, and click Openfit (accept all).
To enable permissions for Bluetooth on iPhone: go to Settings, click on Privacy, then select Bluetooth.
What to know About MYX Bikes
The Myxfitness company offers two products. They are
The MYX II bike and
The MYX II Plus bike.
The MYX II bike is a basic stationary bike with a heart rate monitor and is great for home workouts at any time of the day.
While the MYX II Plus bike has more specs and materials that offer an improved exercise experience, including live classes, the bike has easy-to-use and adaptable pedals.
It also has a monitor that displays all the information you need while working out, and it moves during off-bike exercises to enable the user to see the screen and follow the instructor.
Some of the live-class options to choose from include:
Strength training
Warm-up rides
Rhythm rides
High-intensity interval training
Recovery rides
Yoga classes
Kettlebell workouts
Dance classes, etc.
Benefits of Using Myx Bikes for Exercise
There are numerous benefits associated with Using Myx bikes. They include:
Maintaining a healthy weight through burning of calories
Improved blood pressure
Balanced cholesterol levels
Decreasing the risk of getting heart disease and diabetes
Better aerobic capacity
Reduced risk of depression
Improved triglyceride levels
Conclusion
Physical activity is necessary for good health, and the MYX bike combined with an Apple Watch gives you a tremendously improved workout experience.
So, if you are unsure about "how to connect Apple Watch to your Myx bikes," this piece has all you need to know.
Read More:
How to Connect Apple Watch to NordicTrack Bike? Explained
Connect Apple Watch to Peloton with One Tap, New Feature!
How to Connect Apple Watch to Soulcycle Bike? Explained
How to Connect Apple Watch to Matrix Bike? Solved!
How to Connect Airpods to Soulcycle Bike? It's Easy!