What is a good sign that someone is (or at least is attempting to be) on the way to good health? Finding a Peloton in their living room. If you are like that health-conscious and bodily-aware someone, you must be working out harder than ever!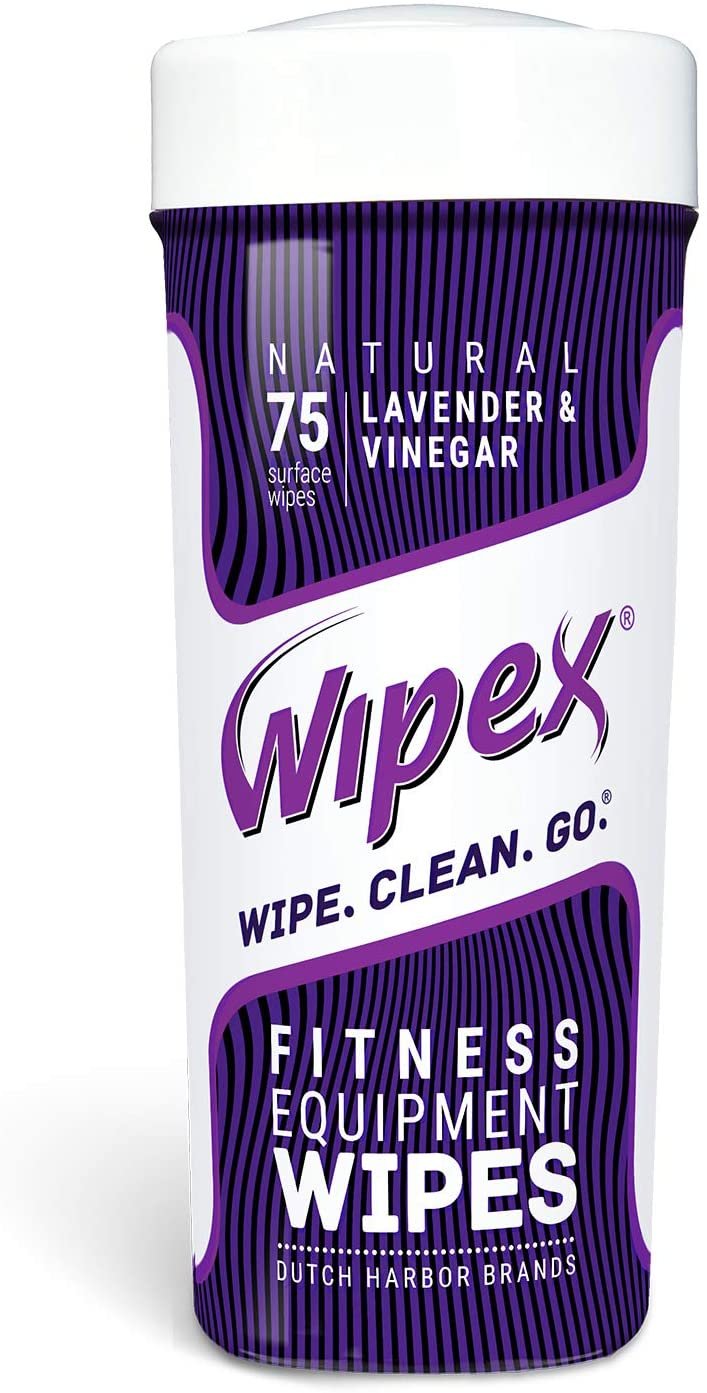 Now whether it is just you who are using the Peloton, or there are kids or other partners you share it with, the wellness of your whole family is important. How? By keeping the equipment hygienic and clean.
This is why when experts were asked what makes an easy and quick solution to swipe (you have the hint already!) sweat and dirt off your bike and preserve a clean workout environment, the answer was obviously in the form of the best wipes for Peloton.
So it turns out, you really don't need abrasives for the home gym, but softer solutions that are easier on the Peloton hardware.
In this cleanse-focused article, you will find 5 of the best picks that clean up marks from your sweaty rides. Just keep them within your arm's reach and when you're done, wipe the equipment down.
Our Recommendations On Best Wipes For Your Peloton Bike:
Review: Best Wipes for Peloton Bike and Tread
Here are the reviews on the 5 picks made for you:
1. Best Peloton Wipes for Gym: Wipex Natural Peloton Wipes
First on the list are these wipes that come in the form of squared shapes and a fresh, clean smell that doesn't overwhelm your nostrils. Sounds like a basic, decent wipe right?
For those who work at the gym and have Pelotons lined up or those who ride the gym bikes, you can use these wipes to clean the equipment every time you ride it. This will not only keep it clean but also cut down sweat buildup which contributes to rust.
These natural wipes have been made with natural ingredients like vinegar and lavender essential oil. Vinegar acts as an excellent alternative to other harsh cleaning chemicals. The fresh, clean smell that comes after this vinegar has evaporated is much better than any other chemical you've experienced.
But is it possible to make the cleaning process with vinegar more enjoyable? Yes. With the lavender infusion that Wipex brought about, you can get rid of these intense vinegar-induced fumes during the cleaning process!
This combination of lavender and vinegar works together to disinfect the Peloton. Lavender quells the weird smell of vinegar, and besides its anti-bacterial and cleansing properties leaves behind a light fragrance after the wipe moisture has evaporated.
You get these wipes in a large canister which contains 75 of these. Also, these can be used for not just Pelotons, but also on yoga mats or other gym equipment surface cleaning. And since it doesn't contain bleach or ammonia in it, this is quite safe to use!
Precise Features
Do not leave any white specs from the wipes.
Smells quite nice and doesn't leave behind any wet residue.
Works really well without causing any water streaks on your Peloton bike.
Can be used for wiping down bikes, treadmills, mats, and more.
Dries really quickly and cleans exceptionally well.
What we don't like
You may pull out too many as they come off very easily.
Increased in price.
2. Scent-Sensitive Pick: Exercising Bike Cleaning Cloth Combo Bundle Set for Peloton
Do you need wipes that are good for your scent-sensitive nose? These are a great option! A nice-smelling wipes collection that can keep your Peloton clean after an intense session of workout, these wipes come with another bonus: a microfiber cleaning cloth!
You can use this to dry off the leftover moisture from using the wipes So say goodbye to crazy wet residues and use these for your Peloton bikes & yoga mats without suffering from the pungent sweat smell!
Similar to the Wipex Natural peloton Wipes listed above, these wipes feature a lavender and vinegar combination. The acidic nature of vinegar removes all the remaining traces that come from the mineral deposits, while its acetic acid properties help to combat the presence of mold, harmful viruses, and bacteria naturally.
Now, vinegar by itself is quite great but infused with the properties of lavender, the wipes become even better. Lavender works its natural scent so that if multiple people are using the bike, you can't smell the leftover sweat or grimes from them.
Also, with its germ-killing properties, lavender fights off bacteria, fungus, and viruses and even acts as an antiseptic! So this cleansing herb along with vinegar in the form of wipes can be a great disinfectant!
In this kit, you have more than Wipex, that is 100 wipes along with a dry cloth in a conveniently usable canister that can clean without causing any streaks so you can be sure of a thorough clean overall!
Precise Features
Has highly deodorizing and antibacterial properties.
Do not let your bike be a breeding ground for bacteria and odor.
Disinfects both the bike and the air with a subtle smell.
Makes cleaning your bike much easier.
Wipes are packaged securely to retain moisture.
What we don't like
Those who prefer no smell will not like it.
Has caused soured hands to some users.
3. Multipurpose Wipes for Body and Peloton: Texas Ragtime Natural Eucalyptus Peloton Wipes
Wet Wipes on the list are focused mainly on cleaning your Peloton. But how would you like it if you could clean yourself after sweating a lot, besides being able to clean the bike? These wet wipes are safe to be used for human skin, so you can personal cleanliness and hygiene at the gym with these wipes!
These wipes come infused with other essential oils that match then you have seen in the Exercising Bike Cleaning Cloth Combo Bundle Set for Peloton. So instead of a single lavender infusion, it comes with a combination of Mint and Eucalyptus. The mint acts as an antibacterial ingredient. When it comes to cleansing your skin with mint-infused wipes, these cleanse with a cooling effect that helps you to soothe your irritated and inflamed facial or bodily muscles from the workout, and can even reduce the chances of developing facial and body acne.
On the other hand, eucalyptus works as a germ killer, making it a great addition to wet wipes to be used on skin and equipment. It not only freshens the equipment but also the adjacent air, making your equipment smell great!
It comes in the form of a pop-up canister, which is easily portable and is durable as well. You can easily dispense wipes from here and shut them down when you aren't using the canister. You get 75 sheets here, just as you did from the Wipex Natural Peloton Wipes.
Precise Features
It is made of natural ingredients that are safe for the bike and human skin.
These are made from bamboo so are naturally compostable.
You can clean your body and face and maintain personal hygiene with these.
Retains the moisture of the wipes in.
Get the job done for both the bike and yourself.
What we don't like
These don't dispense easily from the top of the canister.
Not attached, single-pull.
4. Best Overall/Heavy-Duty Pick: MiracleWipes for Heavy-Duty Cleaning
All of the wipes discussed so far are excellent when dealing with sweat. But what about getting rid of tough stains from your Peloton that have resulted from years of ill-use and lack of maintenance?
If you want to be taken aback by the grease-cutting ability of wipes on gym bikes, here is the proof in MiracleWipes! These can not only ward off sweat but also oil splatter without you needing to use multiple wipes! It comes with a great texture, is super easy to manipulate in your hands without them being hard to swipe around.
When it comes to the infusion of scents, this one features energizing citrus as opposed to anti-inflammatory mint like you saw in the Texas Ragtime Natural Eucalyptus Peloton Wipes. Citrus naturally comes with d-limonene, which works through grease as well as dirt and leaves your Peloton smelling fresh! This scent and the extra cleansing power make it a win-win.
You get both an abrasive and a soft side on these wipes with a larger surface area for a wider, deeper, and intense scrub and clean. Also, unlike other heavy-duty wipes designed for gym equipment, this one has a moisturizing effect that rehydrates your hand skin and prevents cracking, chapping, as well as dryness.
These wipes come in 90-count canisters. You will find them easy to grip, and they will not feel overly wet to touch and the stains come out pretty easily with these.
Precise Features
Keep your hand and Peloton clean after working out.
Stronger than most standard wet wipes.
Comes with a portable canister that is easy to manage,
Do not dry out your hand skin or cause any irritation after scrubbing.
Removes all tough dirt and grime as well as sweat stains easily.
What we don't like
Comes with a strong and distinct orangey smell.
The poorly sealed container may have dried-up wipes.
5. Also See: Xtri Bike Wipes – 45 Degreasing Wet Wipes
Now as you know, your sweat naturally contains salt which is not that great for your Peloton bike. This sweat corrodes the metal on the bike tread which can potentially form rust. And if the non-rusting areas sweat up, it attracts dust and grime, making your Peloton look gross.
Just like the MiracleWipes for Heavy-Duty Cleaning listed above, these wipes are also great for cleansing more than just sweat. Whether you need to clean your untidy hands or Peloton bikes, these wipes can clean anything that has grease and sweat on it. These work quickly and quite easily. Whether you need to use them at your home gym or studio. You can clean everything from your wheels and spokes to even downtube with it.
When it comes to the infusion of essential oils here, it contains Fresh Peppermint which is cool, and refreshing in terms of scent and also has antifungal and antibacterial properties that can kill the gunk hiding on and in the corners of your bike. So when you clean with these wipes, you can kill plenty of bacteria and prevent the dirt from sticking to the bike. 
These wipes have the least count in the canister and hence aren't heavy to carry and clumsy. You can carry them anywhere with you. Even when you are riding outdoors on sandy ground, these wipes can push around the dirt for a safer ride!
Precise Features
Comes in a convenient and lightweight canister pack.
The canister seal remains intact even after multiple uses.
Wipes are not at risk of drying out for a perfectly sealable canister.
Effective bike wipes that are easy to use.
Take dirt off your hoods and cleans road grimes off frame, chain, etc.
What we don't like
Leaves a greasy feeling after the moisture dries up.
Very thin wipes that are not great for heavy-duty cleaning jobs.
FAQs:
With what will you wipe your Peloton?
You should always wipe the glass screen of your Peloton with wet wipes that are safe to use on LCD. For the rest of the parts of the Peloton, it is better to use both the wipes and then follow with a clean microfiber cloth.
Can you use alcohol wipes on your Peloton?
No. You should always remember not to use alcohol or bleach-based wipes on your Peloton. These are not only unsafe for the Peloton, but also for your hands as they dry out your hands eventually.
How should you clean a Peloton tread?
After you are done with your workout, wipe your bike down with the wet cleansing wipes. You can do these with not just the Peloton bike but also your treadmill. For a thorough cleanse, you can perform the same task with heavy-duty wipes twice a week.
Summary
Cleaning your bike is important to save it from damages from sweat and dirt on your bike. So you should always use the best wipes for Peloton as you saw listed here. I found Wipex Natural Peloton Wipes-Lavender&Vinegar is a great wipe for cleaning while leaving behind a relaxing smell.
Again, the  MiracleWipes for Heavy-Duty Cleaning will be great to swipe away not just sweat but also tough stains from the bike. And if you want a bonus microfiber towel for the price of a canister of wet wipes, you could always check out the Exercising Bike Cleaning Cloth Combo Bundle Set for Peloton!
These are much better than other products that come with harsh chemicals. So to save your bike from rusting & causing the paint to eventually fade away, wipe down your bike with one of these after each ride and you will be good to go!
Related:
How to clean Peloton
5 Best Padded Bike Shorts for Peloton to Get Extra Comfort!
5 Best Socks For Peloton To Reduce Your Foot Strain
Can I Use Peloton On Carpet Without Any Problem?
5 Best Gel Seat Cover For Peloton Bike: Ride Comfortably!
Best Peloton Handlebar Towel to Protect Your Bike
Best Exercise Bike With Screen: [Top Peloton Alternatives]
Best Shoes for peloton bike